Proof Chrissy Teigen And John Legend's Daughter Luna Is Already More Well-Traveled Than Us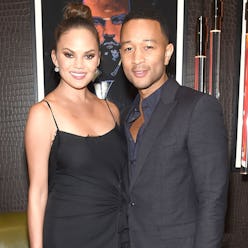 Chrissy Teigen and John Legend are already major #RelationshipGoals, so why wouldn't they also embody all of our #FamilyGoals and #TravelGoals? The couple recently scooped up baby Luna and flew to Morocco for the ultimate Instagram-worthy vacation. And knowing the Twitter queen's social media prowess, she didn't hold back sharing photos and clips, so we got an inside look at their Marrakech trip (well-documented by photographer Mike Rosenthal and hairstylist Jen Atkin, who are good friends with Chrissy and John).
It all started with a photo that had us living vicariously through Chrissy and John's enviable romance. (And enviable style—Chrissy looks absolutely gorgeous in her Zero + Maria Cornejo dress.)
Then John posted this adorable photo with Luna, who didn't seem at all impressed with his selfies. After all, this is Marrakech, land of picturesque hammams and vibrant souks—shouldn't you be snapping pics of those instead of taking selfies, Dad?
Chrissy wrapped Luna up in a pink pashmina and took her to the market, where she looked every bit a globetrotter as she discovered street vendors and Moroccan spices.
But just because she's overseas doesn't mean it's all play and no work. Here, Luna balanced out the grown-up fun with some "light vacation reading."
Perhaps the cutest part of the trip, which had us tacitly begging the famous family to adopt us, is Luna's first moment with the country's delicious cuisine. Just look at the mini fashionista in that adorable Janie and Jack dress.
She even learned to say the word "cat," adding to her already-vast knowledge of animals.
FYI, Chrissy and John: We can babysit during your next family vacation, if you ever need a couple's night out. Just sayin'.