Chrissy Teigen Had The Most Brutally Honest Response To Someone Who Criticized Her Fertility Plan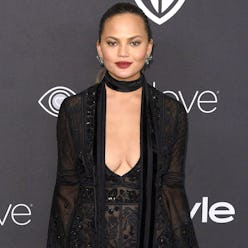 Over the weekend, Chrissy Teigen announced on the red carpet of the Producers Guild Awards that baby number two with John Legend would be a little boy. Naturally social media exploded with all the questions: Is she already pregnant? If so, how will Luna handle her soon-to-be big-sis duties? But Chrissy was quick to clear up rumors with a couple tweets.
Always candid about motherhood, Chrissy has shared unretouched photos of her post-baby body, addressed the struggles of first-time parenting and even opened up about her infertility issues. In an interview with Self magazine, she revealed that in vitro fertilization led to the birth of Luna back in April. So it was not only downright rude but also incredibly ignorant when an Internet troll had the audacity to criticize Chrissy's baby-making methods.
But of course she wasn't going to let Linda get away with that behavior.
Infertility can be a very sensitive topic, especially for the 10% of women under 45 who have trouble getting pregnant. So we couldn't be more grateful to Chrissy, who continues to shut down haters with her brutal honesty. All hail the Twitter queen.