How Celebrities Are Responding To The Las Vegas Shooting, And What You Can Do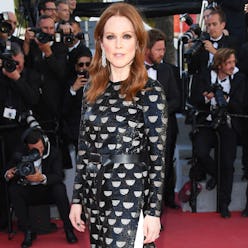 What was supposed to be a night filled with country music and friendly company turned into a terrible tragedy when a gunman opened fire at the Route 91 Harvest Music Festival in Las Vegas, leaving at least 59 dead and more than 520 injured in the deadliest mass shooting in modern US history. Headliner Jason Aldean was performing on stage when shots rang out, and thousands in the crowd dispersed near the Mandalay Bay Resort and Casino, where police found the body of confirmed shooter Stephen Paddock. The heartbreaking news quickly spread throughout social media, with public figures, celebrities and community members offering their condolences to victims and those affected. Below, the reactions that speak to our grief in the wake of this horrific event.
You can make a difference by donating to the Southern Nevada chapter of the American Red Cross, the National Compassion Fund and a GoFundMe page set up by Steve Sisolak, Clark County Commission Chair from Las Vegas. If you live in the area and would like to donate blood, United Blood Services is hosting blood drives at several locations.