These Relatable Celeb Heartbreak Quotes Will Help You Get Over Your Valentine's Day Woes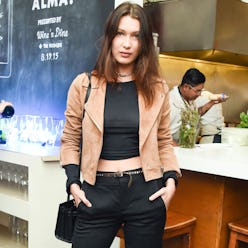 Anybody who's been through it understands: There's no greater emotional pain than heartbreak. Maybe that's a bit of an overstatement, but it's certainly no joke come Valentine's Day, when the simple act of checking your e-mail leads to a seemingly endless stream of promos for romantic candlelit dinners. But what makes the dreaded day more tolerable is the knowledge that others experience the same struggle—including celebrities, proving that being famous doesn't make you immune to heartbreak. Allow these A-listers to let you know you're not alone.
Bella Hadid
In a recent interview with Teen Vogue, the model shared the story of her true first love, a horse named Lego, then opened up about her split from The Weeknd. "It was my first breakup—or second, next to the horse—and so public," she said. "As an outsider, you might think I handled it so well, but it's always in your heart, and you always feel it very heavily. It'll be hard for a while. Love hurts, but you have to pull through."
Serena Williams
A self-described hopeless romantic, Serena recently announced her engagement to Reddit co-founder Alexis Ohanian, but it wasn't always sunshine and rainbows for the tennis pro. About getting her heart broken, she explained in an interview on Piers Morgan Live that "it definitely isn't a good feeling. I think having surgery is a lot easier—having a pulmonary embolism is definitely a lot easier than a heartbreak."
Katy Perry
"There are two ways you can go: You can either nurture yourself or go destructive. I have gone down the destructive path before, and that didn't work for me," the pop star told Marie Claire following her divorce from comedian Russell Brand. "You dig deep beyond those scars and find that soft tissue again, and you massage and nurture it and bring it to life, little by little, through serving yourself well. I did it through hikes, vitamins, therapy, prayer and good friends."
Alexa Chung
In her memoir, It, Alexa talked about the upsides to getting your heart broken. (Yes, they exist.) "You can wear a blanket instead of a coat and your friends won't judge you. You can smoke indoors because nobody will have the heart to tell an inconsolable girl that a smoking ban has been in place for eight years. And you find out that people are very nice, and that they care about you even if the person you care about most doesn't."
Taylor Swift
Unsurprisingly, Taylor's past relationships played a large role in developing her fourth album, Red. "There's just been this earth-shattering, not recent, but absolute crash-and-burn heartbreak, and that will turn out to be what the next album is about," she told Vogue. "The only way I can feel better about myself—pull myself out of that awful pain of losing someone—is writing songs about it to get some sort of clarity."
Lady Gaga
After five years together, Lady Gaga and Taylor Kinney split in July. "I think women love very hard," she said in an interview on CBS Sunday Morning. "We love men. We just love with everything we have. And sometimes I don't know if that love is met with the type of dignity that we wish it would be met with. You know, we're not trying to make you less of a man. We just want you to love us as deeply and as wholesomely and as fully as we love you."