The Cool Way Beyoncé Is Helping Hurricane Maria Relief Efforts In Puerto Rico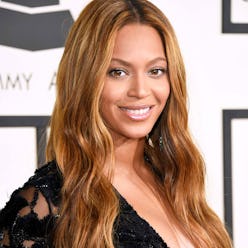 Puerto Rico continues to be in a state of emergency after widespread flooding, torn buildings and crippled communications caused by Hurricane Maria, the most powerful hurricane to hit the area in nearly a century. However, aid has traveled slow for victims who are not only left homeless but also running low on sustenance—and some even face the danger of the Guajataca Dam's potential collapse, which would put at risk an estimated 70,000 who live downstream. Government leaders, celebrities and the general populace have been calling for more support—with some whipping out their pocketbooks to raise much-needed money for relief. You can send donations to the following organizations: Unidos por Puerto Rico, Puerto Rico Hurricane Relief Fund, UNICEF and the various campaigns launched on fundraising site GoFundMe here.
Beyoncé
Revealing her good deed on Instagram, the superstar is lending her voice—quite literally—to hurricane relief, releasing a remix of J Balvin and Willy William's hit track "Mi Gente," with all proceeds from the single's sales assisting the efforts in Puerto Rico, Mexico and the Caribbean islands. Watch the full video here.
Jennifer Lopez
The actress, who was born to Puerto Rican parents, announced she would donate $1 million from the proceeds of her Las Vegas concerts after sharing that she still hadn't heard from her family in the US territory. She even enlisted boyfriend Alex Rodriguez—affiliated with the New York Yankees and Major League Baseball, both of which also pledged to help—and ex-husband Marc Anthony, who will assist in mobilizing athletes and artists to aid as quickly as possible. "We are working day and night to identify the needs," J.Lo said in a press conference.
La La Anthony
La La took to social media to post an emotional PSA, revealing that she also had yet to get word from her family in Puerto Rico. She's partnered with Unidos por Puerto Rico and said she plans to make a trip down as soon as she can. "I'm just so saddened by everything that's happening across the world right now," La La expressed.
Aubrey Plaza
The comedian, whose father is Puerto Rican, opted for a more serious tone as she shared the link to a Generosity fund that's raised more than $600,000 so far, with all proceeds heading to long-term relief for victims.
Gina Rodriguez
In a Twitter post, Gina announced that she'd be directing her efforts to the Hispanic Federation, the same organization Lin-Manuel Miranda is advocating for. "Now and for the next couple of months, we'll need everybody's help and assistance," she said.
Pitbull
The performer sent his private plane to Puerto Rico, hoping to transfer cancer patients to the US for chemotherapy treatment. "Thank God we're blessed to help," he said. "Just doing my part."