How Celebrities Are Reacting To And Helping The Mexico City Earthquake Victims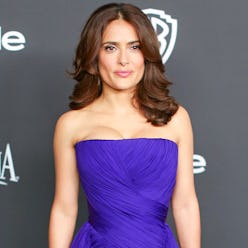 After a 7.1-magnitude earthquake rattled Mexico City on Tuesday and left 273 people dead (a number which is sadly predicted to rise), the area is still reeling from its losses, both in lives and livelihoods. Families were left homeless, school buildings collapsed and parts of the region were reduced to rubble. World leaders, celebrities and neighboring communities have offered prayers, donations and fundraising efforts for the earthquake's victims. Here, some of the A-listers who are showing support. You can donate to nonprofit rescue brigade Topos México, the Mexican Red Cross, humanitarian aid org Direct Relief, crowdfunding site GlobalGiving and the United Way's Fondo Unido México.
Salma Hayek
The actress survived the city's catastrophic 1985 earthquake that killed thousands, recounting her experience and the loss of a close family member in a video that accompanies her fundraising effort on Crowdrise. "I have lived through the aftermath of a disaster of this magnitude, and it's horrific," she says. "I implore to your hearts, to the goodness of your hearts, to your compassion to help. Anything that you can give will make a big difference." She immediately pledged $100,000 to UNICEF and has since raised more than $317,000 on the platform.
Eva Longoria
Eva revealed that her family, including husband José Bastón, were in the country's capital when the earthquake struck. Upon hearing about the devastation, she offered prayers for those in the city. "What horrible news about the earthquake in Mexico," she wrote on Twitter. "Thank God my husband and family are safe in Mexico City. My prayers are with everyone."
Jennifer Lopez
In an Instagram post, the Puerto Rico native sent love to both Mexico City and her home island, which faced its own natural disaster when Hurricane Maria made landfall this week as a Category 4 storm. More than 3 million people are without power, and the death toll has already risen to 15 on the island of Dominica.