This Is How Much Your Favorite Celebrities Are Donating To Hurricane Harvey Relief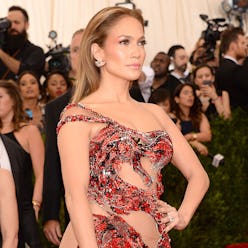 For the sixth consecutive day, Hurricane Harvey continues to ravage southeast Texas and surrounding cities, causing the deaths of at least 31 people and destroying an estimated 30,000 homes through widespread flooding in the worst rainfall the state has seen in decades. The tropical storm, which rose to a deadly Category 4 upon hitting the Gulf Coast, has left much of the community lacking food, shelter and essential supplies to survive. In turn, people all over the country have offered to do their part, whether it entails lending a helping hand or pledging donations to assist in relief efforts—and celebrities are no exception. From J.Lo and A-Rod to the Kardashian-Jenner clan, here are the A-listers taking action in a time of crisis.
Homepage photo: Getty Images
Jennifer Lopez And Alex Rodriguez
The couple is donating $25,000 each to the Red Cross. "Our hearts are just breaking for all the families that are displaced," J.Lo says in an Instagram clip. "It's just devastating, and we just want to do our part to help."
Beyoncé
For the Houston native, this disaster hits close to home. "My heart goes out to my hometown, Houston, and I remain in constant prayer for those affected and for the rescuers who have been so brave and determined to do so much to help," Bey said in a statement to the Houston Chronicle. "I am working closely with my team at BeyGOOD as well as my pastor to implement a plan to help as many as we can."
Sandra Bullock
The Oscar-winning actress pledged a massive sum of $1 million to Hurricane Harvey victims. "I'm just grateful I can do it," she says in a statement about her contribution to the Red Cross. "We have to take care of one another."
Kevin Hart
The funnyman launched the #HurricaneHarveyReliefChallenge, a social media campaign calling out other famous faces to donate to the storm's victims. He initially donated $25,000 then upped his offering to $50,000.
The Kardashian-Jenner Family
The Kardashian-Jenners announced on Twitter that they will split $500,000 between the Red Cross and the Salvation Army toward relief efforts.
To find out how you can help Hurricane Harvey victims, click here.