Why You Should Care About Fashion Month's Most-Booked Model
Alessandro Lucioni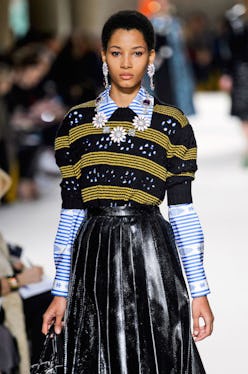 At just 19, Lineisy Montero no doubt had energy to spare when she walked in an unbelievable 68 fashion shows this past month. The Dominican Republic native's unique stroll, velvety complexion and piercing stare definitely had something to do with her incredible popularity. Of course, if you didn't know who she is until now, that's okay. The teenager's only just appeared on the scene, having signed with Next last spring—but her star is shining bright. In addition to being fashion month's MVP, she appeared on Teen Vogue's August 2015 cover and can be seen in every magazine from CR Fashion Book to Vanity Fair this fall.
We really hope that more women of color will join her on next spring's runways. This season, nearly 80% of the models on catwalks were white, making the shows some of the least diverse in years. Why the astonishing ethnic monotony? In every other category—film, TV, music—diversity sells. Fashion should be no exception.
Supermodels like Jourdan Dunn, Iman and Joan Smalls have spoken out about their experiences in the industry. The rise of non-traditional fashion weeks in places like Brazil and India are generating global publicity and fostering the careers of local models and designers. But progress requires a holistic approach. Brands can't request diverse models if agencies don't nurture them, and agencies won't push for diverse models if they don't think consumers want to see them.
So what can you do? Buy magazines with women of color on the cover. Support designers who hire models of various ethnicities. We—the readers, the consumers—have the power to create change with our dollars and our attention.