The Buzzy Wellness Practice Kate Middleton De-Stresses With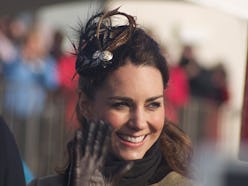 Kate Middleton is certainly no royal dunce when it comes to health—she uses a natural facial oil (because they don't give you acne, after all), and has a trick up her (designer) sleeves for curbing sugar cravings. And now her husband has revealed that the Duchess of Cambridge is an avid fan of adult coloring books.
According to an article in Telegraph, Prince William dished about it to illustrator Johanna Basford when she was at Buckingham Palace. "I think we've just seen the coloring community flourish," she says. "And Prince William actually said that his wife likes to color in the Secret Garden, which was really sweet."
Secret Garden happens to be Basford's adult coloring book, which has sold over 1 million copies. "I think people are just craving a digital detox," she said of the wellness trend that fans say quiets your mind and puts you in a relaxed, meditative state.
The practice is known to activate the creative part of your brain and welcome inward observations as it shuts off the processing part (which is typically on overdrive all day). Sounds divine—we'd be happy to do tea time (with coloring books) at the palace anytime.
Other ways to de-stress? Try this outdoor meditation—or consult your birth chart to pick the perfect method for you.
Check out the original article on Well and Good.