Here's Another Reason To Fall In Love With Blake Lively And Ryan Reynolds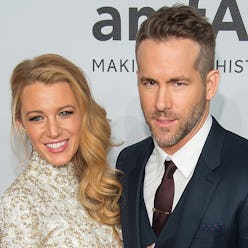 Famously private about their family life, Blake Lively and Ryan Reynolds often remain tight-lipped when the time comes for personal anecdotes. So we were all ears when they decided to share a rare story about a prank gone wrong—this one involving a delivery room, a questionable soundtrack and an inopportune moment: while Blake was in labor with their first child. (Hollywood's golden couple now have two daughters, 2-year-old James and 6-month-old Ines.)
During a game of Fact or Fiction with her fashion BFF Michael Kors, the actress confirmed that her jokester husband decided to play DJ as she was giving birth, choosing Marvin Gaye's classic baby-making tune, "Let's Get It On." "My doctor was laughing so hard I thought she was going to drop our baby," she said.
The actor first revealed his prank on an appearance on Late Night with Seth Meyers last year, and while he attested to Blake's cracking jokes during labor, he also admitted that his attempt didn't come without consequence. "It was like steak knives came out of her eyes," he said. "She was like, 'Are you f—ing kidding me right now?'" It's safe to say Blake's a good sport about the whole ordeal now.
Watch the interview here.