Blake Lively Had The Best Reaction To Ryan Reynolds' Announcement Of Their Baby's Gender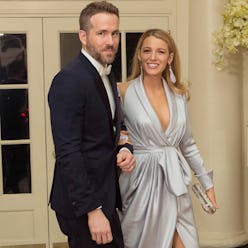 Well, someone's in trouble. When Ryan Reynolds appeared on Conan last night, he accidentally revealed a little too much about his family life. The actor confirmed on live television that his second child (only four weeks young!) is, in fact, a girl. "Two [kids] under two is tough," he told the late-night host, adding that there's "a lot of estrogen." The couple is famously private about their personal lives, so naturally Blake Lively wasn't thrilled about her husband's slip-up—although he did make it up to her in the sweetest way possible.
Looks like cookies and milk did the trick this time, but let's not be surprised if Ryan soon inadvertently reveals the baby's name, too.