Blake Lively Gets Real About Getting Back Into Shape, Post-Baby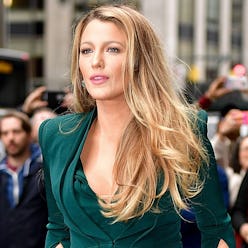 Blake Lively has always been a source of inspiration for many reasons: her talent, great hair, killer style and authentic life and marriage to name a few. Well, now the actress and mother of two is giving us something else to add to our list of things to admire: her post-baby workout routine (and body!).
Blake took to Instagram today and shared a truly envy-inducing image of herself in workout gear beside her trainer Don Saladino. And while her stunningly fit physique was a wonder in itself, it was her caption that had us throwing up all the praise hands. "Turns out you can't lose the 61 lbs you gained during pregnancy by just scrolling through instragram and wondering why you don't look like all the bikini models," Blake wrote. "Thanks @donsaladino for kickin my A double S into shape. 10 months to gain, 14 months to lose. Feeling very proud."
This isn't the first time the actress has spoken out about her post-baby fitness and health. Blake has been very candid in the past about how she feels about getting into shape after giving birth—and it isn't always as easy at seems. The A-lister follows a very strict diet and daily fitness routine, all while caring for two little ones.
Getting one's body to a healthier, more fit place is a struggle for everyone, and it's comforting to know celebs are in the same boat!