Beyoncé Wore The Perfect Winter Wedding Outfit To Serena's Soiree, But Was Still Extra About It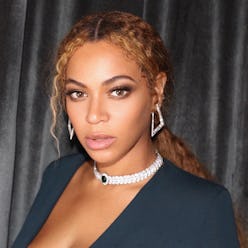 Future president Beyoncé is not exactly known for her understated attire, but she uncharacteristically exercised restraint for Serena Williams' wedding last week with respect to her ensemble… almost. The superstar performer wore a simple-yet-sexy dark blue asymmetrical wrap dress with a plunging neckline, gold stilettos and a diamond choker for a look that said "I'm technically not here to upstage the bride but damn I look good, right?" We suggest taking notes, as it's perfect styling to copy for the upcoming holiday-party circuit.
Being Beyoncé, however, is about being iconic always, so she couldn't help but add a little element of "extra" to the outfit. She wore a giant, knee-length crimped ponytail which screamed "diva" even as her outfit argued otherwise. While we don't know if the budget on that epic 'do is reasonable for ordinary folk, we love the idea of adding a statement-making hairstyle, makeup look or even accessory to your simple LBD this season. See the next-level pics below for inspiration.