The Most Popular Fashion Girl On Instagram Stories Isn't Who You'd Expect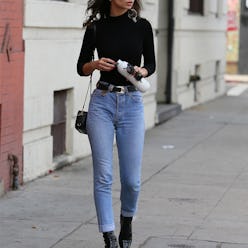 Like us, you are probably obsessed with Instagram Stories. You're probably also surprised to learn the service debuted only a year ago today, earning more than 250 million daily users since. (RIP Snapchat.) In honor of its anniversary, our favorite photo-sharing platform has released a list of Stories' most popular users, and naturally we scrolled to the more relevant top 15 fashion-industry users including models, bloggers, influencers and brands. Although we were familiar with all the names on the list, we were actually surprised to learn who snatched the number-one spot: Emily Ratajkowski.
With more than 14 million followers, the model-actress outperformed fellow A-listers Victoria Beckham, Gigi Hadid and Kendall Jenner in user engagement. (The only brand to reach the top ten was Dior.) But perhaps most notable is that every individual who made the list is a woman, proving Instagram is more female-dominated than ever—and hey, we're all about that.
See the full list here.
Homepage photo: Getty Images