Barack And Michelle Obama Just Proved They Are The Ultimate Valentine's Day Couple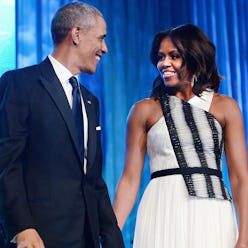 When Barack Obama won the presidential election eight years ago, he and Michelle also won our hearts. The former First Couple, who celebrated their 24th wedding anniversary in October, continue to show us how to keep the romance alive—and these days, what better way to do so than with the most adorable of tweets?
Of course, Michelle had a response of her own. As the two settle into their new post-White House life, she recalled their recent British Virgin Islands vacation with a throwback photo of their feet in the sand.
Gah, we just can't handle it.