This Is What Anna Wintour Really Thinks When People Call Her Fashion's Ice Queen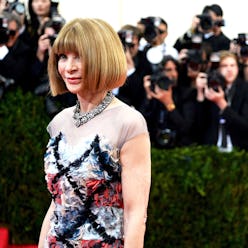 Anna Wintour has a certain reputation in the fashion industry. Legend has it that Miranda Priestly's character in The Devil Wears Prada was loosely based on the Vogue editor in chief, and her seemingly ferocious demeanor reportedly earned her the nickname "Nuclear Wintour." But Anna had a few words to say about this near-universal perception in a recent interview with Business of Fashion, when EIC Imran Amed asked her what she thought about people designating her as fashion's most powerful figure—as well as the rumor that the industry works based on what she says.
"It simply isn't true," she said. "Honestly, without sounding pretentious, I don't think about power or what that brings me. What does that really bring? A good table at a restaurant? I just try to use my position to help Condé Nast and to help others."
So there you have it: The myth is simply a myth. Behind her perfectly trimmed bangs and dark Chanel sunglasses, Anna Wintour is not necessarily the frigid editrix everyone thinks. Though that doesn't mean we'll stop referring to her as fashion royalty.