Alicia Vikander And Michael Fassbender Are On The Most Romantic Honeymoon In Italy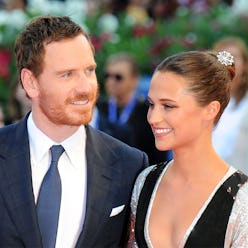 A week after we heard Alicia Vikander and Michael Fassbender tied the knot in a super-secret ceremony in Ibiza, we're now getting reports the newlyweds have jetted off to Bologna for a honeymoon more romantic than a Nicholas Sparks novel.
In a Twitter post shared by a lucky fan, the Hollywood couple was spotted at the Osteria del Cappello restaurant in the historic Italian city, taking a selfie with staff members and obviously showing off their marital bliss.
They were also stopped on the streets of Verona, aka the home of Shakespeare's Romeo and Juliet, where Alicia and Michael posed all smiles for fans.
Just look at that honeymoon glow—they basically light up the Italian night.