9 Times Julianne Moore's Daughter Liv Looked Just Like Her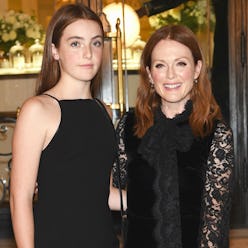 If Julianne Moore ever needs an actress to play her younger self, she may want to convince her daughter, 15-year-old Liv Freundlich, to head into show biz: The teen is a dead-ringer for her famous mom.
Between her vibrant red hair, almond-shaped eyes and wide smile, Liv is totally her mother's doppelgänger—just a few years younger. She's even followed in her mom's footsteps, starring as a J.Crew model in a fashion show in February.
But Moore isn't worried about her little girl staying grounded. "She is a wonderful student and a really great girl and an interested person," she told People earlier this year. "When she was really little, she said, 'You know mommy, some people get really scared when they watch movies but I don't because I know that they've made everything up.' She always understood the concept of illusion and I think she understands that with fashion as well."
To read full article, head to InStyle.