The 4 Most Influential Style Lessons We've Learned From Mary-Kate And Ashley Olsen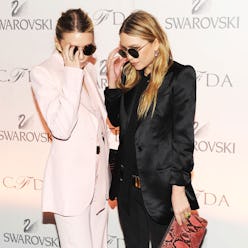 To be crowned a style icon before age 30 is no easy feat, but Mary-Kate and Ashley Olsen have managed just that (their ability to pull off vintage with aplomb is nothing short of heroic). And their ascension from sitcom child stars to influential fashion royalty (as founders of The Row) is one of the most unique success stories in the biz, to be sure. Ahead, in honor of their 30th birthday, we've culled four timeless style lessons the Olsens have taught us from their perch high atop our sartorial pedestal. Long may they reign.
Happy 30th Mary-Kate & Ashley!
Masterful Minimal
Since its inception in 2006, The Row has become a beacon of relaxed and timeless elegance via fine fabrics and impeccable fits. An exemplary pair when it comes to minimalist chic, Mary-Kate and Ashley live their brand aesthetic, consistently making the case for clean and refined pieces from ready-to-wear to eyewear to handbags.
Vintage Virtuoso
With an unparalleled affinity for vintage, the sisters have an astounding ability to modernize throwback pieces—Mary-Kate's vintage Cartier engagement ring is a prime example.
Head-To-Toe Black
A look beloved by many a modern woman, the Olsens excel at reimagining all black everything. Whether they're donning tailored gowns, flowing separates or contrasting textures, the look consistently reads cool, fresh and innovative.
Natural Beauty
While their teenage years may have seen the duo experiment with beauty trends, they've now perfected the low-maintenance look. From air-dried tresses to slick buns and barely there makeup, their understated approach is achingly chic, providing the perfect counterpart to their always-impeccable ensembles.