Burberry And Tom Ford Make It Easier Than Ever To Shop Their New Collections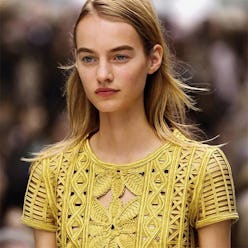 Zayn Malik opens up about Gigi and more of today's news.
Burberry's New Fashion Show Format
Burberry is jumping on the consumer-facing bandwagon with a new runway show format. Starting in September 2016, the British brand will only hold two runway shows a year instead of four, combining womenswear and menswear for their September and February showings. By subscribing to the increasingly popular "see-now, buy-now" approach, Burberry is tailoring their new model to consumers by giving them the chance to shop new collections immediately following their runway debut both in-store and online.
Tom Ford Gets In On The Trend
Also following suit re: the "see-now, buy-now" model? Tom Ford, who announced that he too will present his Fall 2016 women's and men's collections in early September with the entire collection becoming available for purchase online and in-store immediately following the runway show. While the American designer is familiar with going against the grain (read: his Fall 2015 runway show in Los Angeles and Spring 2016 music video starring Lady Gaga), this marks the first time his collections will be available to consumers immediately following a show. It also means he won't be showing anything at this upcoming fashion week. [ Fashionista ]
Gigi Hadid And Zayn Malik Are Official
Finally. As if we weren't already convinced, Zayn Malik confirmed that he and Gigi Hadid are officially dating. During a recent radio interview, the Pillowtalk singer spilled the beans when asked if it was cool to have his girlfriend in his video by responding, "Uh, yeah. That was cool. It was something different. We enjoyed it. It was fun." And if that weren't enough of a confirmation, the show host followed up with, "No one easier to make out with than your own girlfriend, right?" to which the former 1D star said, "Exactly." Atta boy, Zayn. Well done. [ USA Today ]
Orange Is The New Black Renewed For 3 More Seasons
On the heels of a big SAG Awards win, Orange Is the New Black just received an unprecedented three-season renewal ahead of their season 4 premiere on June 17. Ensuring the show's creator Jenji Kohan remains at the helm for seasons five, six and seven, Netflix's most-watched series is sure to continue delivering hilarious, dramatic and outrageous storylines for their wonderfully diverse cast. [ Variety ]
Adele's New Single
Adele has officially released her next single "When We Were Young" after previewing it to Sirius XM, on Saturday Night Live and during a televised NBC special where it earned a standing ovation. While 25 is still only available for purchase as a full album, you can give the tune an individual listen here. [ Entertainment Weekly ]
Serial Is Recapping Adnan Syed's Court Case
We've been invested in the true crime podcast Serial for a while, and the gripping series has become more compelling than ever. Now recapping new court proceedings of Adnan Syed (the focus of Serial's first season) we're stoked to hear how Syed's lawyer works to get his conviction overturned after being convicted of killing his high school girlfriend, Hae Min Lee, in 1999. [ Mashable ]
Kendall Jenner And Joan Smalls Have A Girls Night
Most women know that half the fun of girl's night out is getting ready and Estee Lauder models Kendall Jenner and Joan Smalls are here to prove it. In a 3-video series by the iconic beauty brand, watch as the supermodels ready themselves for a GNO from thier hotel room makeup prep to a glammed out lip-syncing sesh in the backseat of their car. [ Vogue ]
Kanye's Conversations From The Beyond
Kanye West has been making many a headline lately and today is no exception. With the "best album of life" coming soon, Yeezus actually admitted that he had a lot of help on the record from none other than God but also from the beyond—aka his wifey's deceased father, Robert Kardashian. Huh? We explain: "I'm only doing two percent of the work. God is doing the rest of the work," West told Real 92.3 also stating, "Robert Kardashian is making sure all the deals is getting done. He's still doing deals for controversial black people from up in heaven." Clearly Ye knows how to work his network. [ Marie Claire ]