Blake Lively's Alcohol Brand Betty Booze Is Taking A Fresh Approach To Canned Cocktails
@blakelively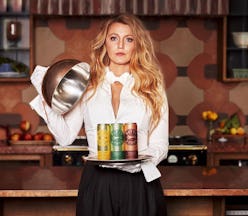 Blake Lively's latest career move has nothing to do with acting. Nope, the Sisterhood of The Traveling Pants star is stepping into the alcohol business with her latest venture, Betty Booze. (The name is likely inspired by her three-year-old.) Announced on June 28 via the actor's Instagram, Lively is shown holding a serving tray of three canned cocktails, the brand's inaugural flight.
"Drinking isn't my thing. But for f* sake, flavor is," reads her post. "Homemade recipes. Real fruit. Real ingredients. Quality booze. No crap. Also a real time saver. Which is why I really did it."
She sure did. The new cocktails consist of three flavors — Sparkling Bourbon with Apple Ginger Sour Cherry, Sparkling Tequila with Oak Smoked Lemonade, and Sparkling Tequila with Lime Shiso — each infused with real fruit, fresh herbs and spices, and a bit of sparkling water for a refreshing effervescent sip. The new additions join sister brand Betty Buzz, which offers premium drink mixers of tonic water, ginger beer, and sparkling waters.
According to the Betty Booze site, the idea for the brand was born from Lively's belief that "what we drink should be held to the same standard as the foods we eat." So, the current roster of canned cocktails filled with artificial flavors, low-quality liquor, and added sugar were simply not cutting it.
The launch time is perfect, considering we're in the early days of the summer season, a time for outdoor entertaining, pool hangs, and long lazy beach days. What could be better to sip on than a convenient canned cocktail filled with ingredients you recognize and served by the one Blake Lively? True, the alcohol space is already over-served by celebrity-founded brands, but the mother of four's relatability and authenticity could work in Betty Booze's favor in bringing in loyal and otherwise skeptical fans. Only time will tell.
According to the site, the three new flavors are available "where wine (and more) are totally sold."