The Zoe Report Recaps: Amazon's Making The Cut, Season 2 Episodes 7 & 8 — Find Out Who Was Crowned The Winner
We only recommend products we love and that we think you will, too. We may receive a portion of sales from products purchased from this article, which was written by our Commerce team.
Amazon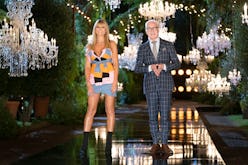 Spoilers for Making the Cut, season 2 ahead! After six grueling challenges, the three remaining designers face two final, extra-grueling challenges before reaching the $1 million brass ring. (Also included in the life-changing prize bundle: The ability to sell their clothes on Amazon Fashion; a mentorship with the global retailer; a three-year, rent-free pop-up shop at ROW DTLA; and the opportunity to create a new, co-branded collection with Amazon Fashion.)
Don't have an Amazon Prime account? You can sign up for a free, 30-day trial here to start watching ASAP.
Read on to find out what you missed in these last two episodes, how to shop Episode 7's winning look, and — most importantly — who was just crowned the winner of Making the Cut Season 2.
Episode 7: "Concept Stores"
Recap
In the penultimate challenge, Andrea P., Andrea S., and Gary must create pop-up concept stores that reflect their brand identities. For this extremely tall order, the designers have two days to create their stores at ROW DTLA in tandem with a production design team. On top of that, they each have to create a minimum of three brand-new looks to be displayed alongside a few particularly special pieces they made in past assignments. Christine Beauchamp, President of Amazon Fashion, joins the judges on their store visits.
Brooklyn-based Andrea P. sticks close to home in her subway station pop-up concept. (Unlike an actual subway car, hers has a crystal chandelier.) Importantly, she wants the models to "look like people," and she designs three looks to suit three real-person personas: A business exec; a "rich girl"; and a girl "from the block" donning a satin bra top, drapey bomber jacket, and, per Jeremy Scott's advice, the pant version of her denim jumpsuit from last week, accessorized with a skateboard. Her bespoke graphic print in nude, marigold, and black also harkens to her Jamaican roots. It's all beautifully reflective of her brand ethos centered on inclusion and the joy of fashion.
Down the block, Andrea S. creates a chic museum gallery environment that reflects her brand's sophisticated glam, while the thoughtful addition of branded water bottles, accessories, and perfume wafting into the space adds to the immersive experience. Gunn calls her new collection, replete with her signature edgy-luxe sparkle and cool-girl separates, "electrifying." And the environment doesn't overwhelm the garments — one of which, a slinky black dress, Klum says she would buy "right now." It's clear that she has a defined, mature point of view and intimately understands the modern shopper.
Gary wants to demonstrate a sense of "process, narrative, and history" in his pop-up store, which he curates like a Shaker barn and decorates with vintage elements, like wooden mannequins and a bowl of gratis black safety pins. Beauchamp and Klum find his store copy too "cerebral" — unsurprising for the terminal over-thinker — and they crave a slightly more contemporary feel. But Scott defends the artist's unique vision, which he calls "cuts above the other two in that respect." And the judges unanimously agree that Gary's textile-driven garments — a mix of upscale pieces, like his winning self-tie dress from Episode One, and accessible ones, like a printed T-shirt — are huge successes.
In an amazing development, the judges allow all three designers to move onto the final challenge. Their visions are so distinct, and their passion and professionalism equally apparent, the panel can't reasonably narrow this wildly talented pool down to only two.
Plus, Andrea S. clinches her first win — which means it's our first opportunity to shop her luxe looks on Amazon Fashion's Making the Cut store (finally!). You can shop her faux-leather military jacket and patterned sequin skirt, along with a few choice accessories, through the links below. Just in time for the cooler weather, plus the triumphant return of cozy indoor cocktails.
The Winning Look
Here are a few pieces that would beautifully complement Andrea S.'s glam-rock look:
Made with a hint of spandex, this simple black bodysuit will tuck seamlessly into Andrea S.'s glitzy maxi skirt. It's a streamlined counterpart to the tough leather jacket, too. When the weather turns chilly, swap this sleeveless racerback style for a bodysuit with long sleeves and a turtleneck.
A fistful of delicate, glittering gold rings underscores the look's rocker-chick vibe, without looking costume-y. These surprisingly inexpensive picks from PAVOI would layer nicely with other gold rings in your arsenal for a monochromatic effect; or, stack them with silver to lean into Andrea S.'s penchant for mixed metals.
Episode 8: "Finale"
In this last push for the prize, the three finalists are tasked with creating a 10-look collection that shows the judges, once and for all, what their brands stand for. But before that last runway show, they have to deliver a business pitch to Christine Beauchamp, President of Amazon Fashion, succinctly selling their brand mission and how they would use their $1 million winnings. Beauchamp's feedback will factor into the judges' final decision.
Andrea P. promises a party, and that's exactly what we get. Her show kicks off with a glittering, floor-length, ruby-red robe that the model unties to reveal a chic black lingerie set (styled with a pair of over-the-knee boots, no less). That's followed by deep pink and turquoise sequins, a dark-romantic sheer floral print, and an ornate, bespoke print. Many of the models don cashmere beanies for a high-low effect. My personal favorite? A menswear look featuring glittering black pants, a black fur coat, and a maroon leather harness worn over a fitted black turtleneck. It's reemergence fashion par excellence, filtered through the designer's compassionate understanding of a diverse marketplace.
Andrea S. keeps the party going with her signature mixed metallics and achingly cool separates. She starts off with a rich, pale gold suit (a pair of slim-fit trousers with a cropped jacquard jacket), followed by a steady procession of lush silks, faux leather, sequins, and an elevated T-shirt or two, all styled with Western belts, glitter-bombed booties, and wide-brim hats. She closes out the show with a military-inspired jacket, which she's shown versions of throughout the season. The judges wonder if her point-of-view is unique enough — the rocker-chick vibe has certainly been done before — but there's obviously a huge customer base for that aesthetic.
Finally there's Gary, the season's resident designer's designer. He begins the task by photographing tender, lonely objects in the environs, like a rusted truck that ultimately becomes a plaid-adjacent print crafted into a long-sleeved dress. The runway show, he tells the judges, is dedicated to Alison Arngrim, the actress who played Nellie Olsen on Little House on the Prairie. Some judges are baffled, but the result is a cohesive mash-up of cozy and eclectic. He balances his signature heritage textiles, like calico and tapestries, with modern silhouettes and styling (many models wear Dr. Marten combat boots); or, he applies his innovative prints to Victorian-inspired silhouettes. There are plenty of chunky knits and clashing prints, intercepted with ethereal pieces like a Degas-esque gown with a fitted bodice and handkerchief-hem skirt.
Although the judges are pleased to see hints of modernity in the collection, and even sex appeal, Klum maintains her reservations that he's "stuck in a time warp." But Scott fights vehemently on the artist's behalf, whom he asserts has the most innovative vision of all three finalists. "You cannot do something brilliant if you don't have a true vision, and his vision is unique," Scott says. "You cannot pass this opportunity up. I'm giving you a passionate plea."
But mass appeal is the name of the game on this show. Klum and Harlow outnumber Scott when they cast their votes for Andrea P., making her the Season 2 winner of Making the Cut. The designer has been a consistent contender, a consummate professional, and a true champion for all her customers throughout this season. I can't wait to see what she designs for us next.
And all hope is far from lost for admirers of Andrea S. and Gary: Beauchamp liked their collections so much that both designers also have the opportunity to sell their clothes on Amazon Fashion's Making the Cut store. I'll be keeping that page bookmarked for the foreseeable future.
Shop all the winning looks: