7 Women Beauty Founders Share Their Best Advice For Future Entrepreneurs
TZR/ Neen, Briogeo, Pause Well-Aging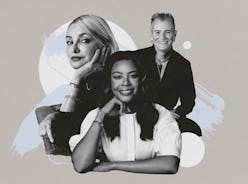 Women's History Month is a time to celebrate the achievements of women from all diasporas. Every year, during the month of March, the world takes a beat to recognize the many social, economic, and cultural accomplishments of those who identify as female. While many industries have benefited from trailblazing women, the beauty space has arguably benefited the most. However, women are still the minority in leadership positions in the industry. According to a 2021 Beauty Inc report, there are more women holding chief executive officer titles in the industry than ever before, but in the top 20 beauty manufacturers, women hold only 15% of CEO titles. Luckily, times are changing thanks to females taking matters into their own hands by launching their own brands, which has resulted in some of the most innovative beauty products to hit the market.
From inclusive hair care brands like Briogeo and Ceremonia to menopause-friendly skin care lines like Pause Well Aging, these beauty brand founders have overcome a wall of obstacles in order to create their own unique lanes in the industry. In honor of Women's History Month, seven female founders share their best advice for future entrepreneurs. Read on to see their thoughts.
Amy Liu, Founder & CEO Of Tower 28
What is the best career advice you've received?
"The best career advice I've ever received is the same as the best love life advice I've ever received — don't settle. With every change in my career (and with boyfriends!) I've made a great effort to make sure I wasn't just trading one problem for another, but rather evolving and getting closer to the target by figuring out what I liked and wanted to keep (small teams, flat organizations, fast moving) plus what I want to change."
What advice would you give to future generations?
"Practice collaboration over competition. The beauty industry has always been full of women, but at the top it was historically men. Now, I look around and see so many female founders and leaders in beauty. We're stronger together and by role modeling it we are changing the future of the industry."
What is the best career advice you've received?
"Always listen to your gut when making key decisions. When scaling my businesses, I try to always take that advice, which has led to opportunities for growth. While in the past I made the mistake of not listening to that inner voice, aka taking large sums in a bad investment deal, I've since learned to hone in on those instincts."
How do you see the industry progressing for founders in the future?
"There are so many people that now have the runway to speak their truth and demand more from the industry and I hope to see more people compelled to take action. I often use the example of my children — who are Kenyan, Irish, Italian, and French — to emphasize that this is what the majority of the world is going to look like. I hope companies realize the importance of speaking to them, and truly prioritizing Black and brown people with the understanding of their impact and spending power within the industry."
What is the best career advice you've received?
"The best advice I've received is simply to be open-minded. For a while in my life I thought I needed to know exactly what I wanted to do and really stick to that. But if I'd gone that route, I would've never created a company and skin care brand that was menopause centric, and one that has the ability to change so many things in peoples lives as well as the general conversation around menopause. Prior to Pause, there was no conversation about menopause within the beauty industry."
What advice would you give to future generations?
"We've been recognized for creating a new category within the beauty space and things are starting to change as the conversation around menopause is becoming more open to talking about its impacts. For the future of beauty, it's important to always speak up and to never be afraid about doing so. You can't imagine the impact your words can have on one individual or in the case of Pause, an entire industry."
What is the best career advice you've received?
"My best career advice was from my dad shortly after I had been fired (again) from a job; he said, 'You see that guy with the hot dog stand over there? Nobody is telling him how to spread the mustard for maximum productivity or how much relish he needs to use for maximum savings…you need your own hot dog stand.' After working with some of the most amazing photographers, I founded Stila Cosmetics and decided to become a mom. I worked on Stila for eight years and wanted to begin a new venture to continue exploring my passion for making makeup and creating awesome new formulas.
So I founded Neen, and focused on making sustainability a guiding principle of the brand. Back then, my dad got that I needed to forge my own path and I will be forever grateful that instead of giving me grief he saw me for who I was."
What advice would you give to future generations?
"Always make sure that your decisions are coming from the right place; ask yourself questions like, Why am I choosing this? Is it because I think I am supposed to, or have I been told this should be my choice? When building Neen, I knew sustainability had to be a core value and I hoped to see more brands continue making changes. There is importance in finding your inner voice — the one that knows the truth and doesn't make decisions from a place of fear, envy, or ego."
Babba C. Rivera, Founder Of Ceremonia
What is the best career advice you've received?
"The best advice I received was from my husband: There is no better time than now. My career background was in fast-paced companies. But when it came to Ceremonia, I looked specifically at two main issues: representation and approach. For me representation is so much more than just having products that work for my hair texture. The hispanic demographic is one of the larger spending groups in beauty, but I noticed that the community was not benefiting from the sales of the products we were frequently buying, so I thought, If I don't do this, then who will?"
What advice would you give to future generations?
"Focus on the journey versus the end destination. The truth is we can only create an end destination that we're able to imagine, and because women have been strictly marginalized for so long, there's a lot of 'end destinations' that we ourselves aren't aware of. I've seen much more success from living with a learner's mindset and focusing on enjoying the journey. That said, we need more women actually taking the journey, and so I hope the future brings more equality for investment funds towards women-owned businesses."
What is the best career advice you've received?
"Be proactive and open-minded about seeking feedback and building your network. Feedback gives you insights you may not be aware of that can help you unlock new development areas. Building a diverse network is crucial to opening up more doors, resources, and opportunities as you look to elevate your career."
What advice would you give to future generations?
"Persistence overcomes resistance. I've learned over time that the unforeseen challenges I've experienced didn't mean it was time to give up or that it wasn't meant to be. The challenges were there to help me grow and encourage me to find creative ways to navigate to an even better place."
Michelle Ranavat, Founder Of RANAVAT
What is the best career advice you've received?
"Don't compare yourself to others. As a first-generation South Asian American, I grew up being immersed in a rich culture with potent rituals. I saw the potential for those practices in the beauty industry and decided to create a line that is driven by the science of Ayurveda. It's easy to feel like everyone else has it figured out but the reality is we're all growing and evolving. Lean into what makes you unique and only focus on comparing yourself to who you were yesterday."
What advice would you give to future generations?
"A favorite quote of mine that I live by is 'every soul needs acceptance.' I approach each day with this philosophy and it has helped me to partner and collaborate in new mediums — both in my personal and work life — that I did not see possible before. Each and every one of us has strengths and weaknesses but through partnership and acceptance is where you can achieve greatness."