Make Your Eyes Look Bigger Instantly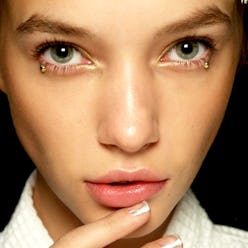 Since the days of Twiggy's doe-eyed makeup look, women have been doing anything and everything they can to make their eyes look bigger. After all, peepers that pop make you look fresh and young (sign us up!). Get instantly wide-eyed with 4 simple makeup tips you can achieve right now with products you probably already own. Because sometimes bigger really is better.
Your baby blues (or browns) deserve to be shown off.
Photo: Courtesy of Zimmerman
Eyelashes
Sure, your lengthening mascara is a team player in your makeup game, but the MVP is undoubtedly your eyelash curler. Curl your lashes up and out for an instant eye lift it would be impossible not to notice.
Eye Shadow
Never underestimate the power of well-executed eye shadow. A darker shade in the crease gives your lids depth, while a light, shimmery color on the inner corners brightens them. Use both for the widest-looking eyes you've ever seen.
Eyeliner
An expertly lined eye transforms your look in seconds. Go for a barely there liner to make your eyes look wider (a chisel-shaped marker is perfect for achieving the thinnest line possible). No professional experience needed.
Eyebrows
If eyes are the windows to your soul, eyebrows are the windowsills: They are meant to frame and draw attention to the eye. Make sure your brows are always perfectly groomed with the help of a set that has everything you need in one place.