What Your Beauty Routine Says About Your Personality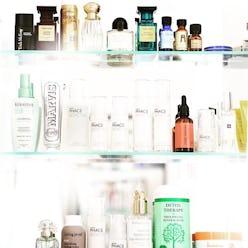 We bet you didn't know your beauty routine can provide insight into your personality. If you're a laid-back girl, chances are strips of fake eyelashes and full facial contouring isn't a viable daily regime for you—on the contrary, if you're obsessed with new products you likely need a little extra time to primp each day. We polled girls around the office to see how they make their routines work for their individual lifestyles. Discover our personality-specific guides to looking gorgeous every day.
Beauty By Personality
Photo: @thephacelife
The Urban Warrior
"In true NYC fashion, I feel like I am always on-the-go (or running late), so my beauty routine needs to be quick, simple and heat proof for those steamy subway stations! I hardly ever blow-dry my hair in the morning, so a salt spray is a must for me. In order to keep my beauty routine simple, I stick to a creme blush, a quick swipe of liquid eyeliner and loads of mascara. The best part is I don't need any brushes so getting ready in the back of a cab is super easy."
-Victoria Gordon, Account Manager
The Minimalist
"I'm not a crazy beauty product or makeup person, so my routine has always been fairly simple. My mornings are usually quite rushed with an early morning workout, answering emails and trying to get ready for work, so my beauty routine consists of drying my very curly hair upside down with a diffuser (after using a small amount of a frizz serum in it), and then using a face serum, moisturizer and SPF on my face. As for makeup, I use a liquid liner, mascara, powder foundation and blush. Then a little pop of color on the lips—usually a pink shade from Chanel—and I'm off."-Sari Tuschman, Editor-at-Large
The Routine Devotee
"If there's one thing I appreciate maybe a little too much in life, it's my calculated daily routines, especially when it comes to skincare and beauty. I wash my face in the morning with a gentle daily exfoliating scrub and a makeup removing foaming cleanser at night, both always followed with a light moisturizer. My makeup routine involves minimal face coverage (tinted moisturizer and concealer) and a focus on the eyes with a light brown eyeshadow and shaped brows (of course)."
-Lauren Eggertsen, Contributor
The Product Junkie
"I am constantly trying the latest and greatest products on the market, but I just happen to be a skincare junkie by nature. To call me crazy about my cleansing and moisturizing routine is an understatement. My carefully executed cleansing routine starts with an oil, continues with a light exfoliator and ends with a detoxifying charcoal cleanser. When it comes to moisturizing, hyaluronic acid (which keeps my dry skin hydrated) is a must. I also love my dark-circle serum and hydrating gel moisturizer."
-Stephanie Montes, Beauty Editor
The Efficiency Pro
"After having a baby, I streamlined my morning beauty routine down to the essentials. For instance, I cut down on the number of times per week I wash my hair, and my hair is actually better for it. I wish I had done this a long time ago! For my daily makeup look, I concentrate on perfecting my skin with a little foundation and concealer, filling in and grooming my brows and never forgetting mascara. I've also been trying to get better about wearing lipstick—even something neutral—so that I look more polished."
-Marisa Runyon, Director of TV and Digital Video Production