40 Weird But Genius Grooming Hacks You'll Wish You Knew About Sooner
Turns out diaper rash cream can soothe your skin. Who knew?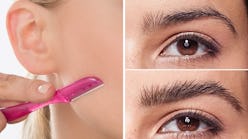 We may receive a portion of sales if you purchase a product through a link in this article.
If you're a longtime TZR reader, you'll know we can't get enough of the weird but genius beauty hacks that keep our day-to-day grooming routines ever-more interesting. Luckily, between crafty BeautyTok users, innovative MUAs, our own experimentation, and Amazon's ever-replenishing digital shelves, the unexpected but brilliant beauty tips just keep on coming. Below, you can check out our newest, freshest batch of weird but genius grooming hacks you'll wish you knew about sooner, complete with a slew of exciting products that'll revolutionize your routine.
Granted, some of these products aren't necessarily "weird" in and of themselves — it's likely you already have a bottle of Dr. Bronner's cult-favorite castile soap in your linen closet, for example, or even a tube of diaper rash cream, if you're a parent — but you might not have considered the myriad, unexpected ways you can use those familiar products. For the most part, though, you'll discover several weird but genius beauty products you've likely never encountered before, but which you'll soon wonder what you ever did without — like an anti-chafe balm in stash-able stick form, or a hair mascara that lays down flyaways with a single swipe.
So if you're itching to spice up (or streamline) your beauty routine, scroll on to discover some of the best, weirdest grooming hacks you'll wish you knew about sooner — and the products you'll want to scoop up to put them to the test.
This article was originally published on