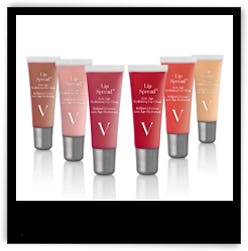 We'd be kidding ourselves if we said we didn't constantly work on perfecting our pout. Aiding us in this endless endeavor is vbeauté's new LipSpread Anti-Age Tinting Lip Gloss—a fabulous, multi-tasking formula that will give you luscious, kissable lips with just a wave of its wonder-working wand.
Available in six sensational shades—Naked, Truth, Vain, Dare, Virgin and Vixen—our gloss du jour softens even the driest lips while providing anti-aging, antioxidant and anti-inflammatory benefits. Infused with biocellular peptide, cocoa butter and papaya fruit extract, today's tube saturates your pout with three-dimensional shine and colors containing a blend of enriching polymers. Incorporate vbeauté's brew into your beauty regimen and you'll have the perfect excuse to pucker up all day and night!
Availability: vbeauté LipSpread Anti-Age Tinting Lip Gloss ($28 each). For additional information, visit vbeaute.com.