U Beauty's New Skin Tint Is The Seamless Underwear Of Makeup
I'm sold on the weightless, natural finish.
Erin Lukas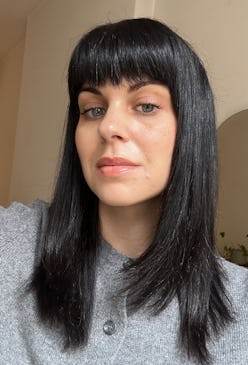 We may receive a portion of sales if you purchase a product through a link in this article.
In our series Trial Run, TZR editors and writers put the buzziest new beauty products to the test and share their honest reviews. This week, deputy beauty editor Erin Lukas is testing U Beauty The SUPER Tinted Hydrator.
It's tough for me to answer the question, "what's your favorite skin care brand?" As a beauty editor, it's virtually impossible to be monogamous with any line. However, there are certain brands that always make me do a double-take whenever they come out with a new product. U Beauty is one such label. After garnering a cult-following for its innovative, science- and technology-based skin care, founder Tina Craig is entering the complexion space with The SUPER Tinted Hydrator.
As the tinted version of the brand's moisturizer of the same name, a product I have used until the very last drop, I was eager to see how U Beauty does complexion. But this isn't the first time Craig is blurring the lines between makeup and skin care with her line. Earlier this year, the brand launched tinted editions of its fan-favorite PLASMA Lip Compound. However, with base products, the stakes are higher — the formulas need to perform just as well as the legacy makeup brands who have been in the game forever. Needless to say, I couldn't wait to get my hands on a bottle of this tinted moisturizer and put it to the test.
Ahead, my honest thoughts on U Beauty's The SUPER Tinted Hydrator. Apologies in advance to your credit card.
Fast Facts
Price: $108
Size: 30 ml/1.0 fl oz
Clean/Cruelty-Free: Yes
Best For: Makeup minimalists and those who prefer sheer coverage with skin care benefits.
Ingredient Highlights: Purified oat extract, peptides, avocado oil, pure mineral pigments
What We Like: Super hydrating; leaves a dewy not greasy finish; offers a bit more coverage than the average tinted moisturizer
What We Don't Like: Pricey; doesn't have SPF
Rating: 4/5
How TZR Keeps Score: 1/5: Making a return; 2/5: Keeping as a backup; 3/5: Finishing to the last drop; 4/5: Recommending to my group texts; 5/5: Already on auto-replenish
The Formula
Modeled after the moisturizer of the same name, this product is formulated with purified oat extract, peptides, shea butter, and avocado, grapeseed, and organic argan oils to deliver long-lasting hydration (up to 48 hours, to be exact). Like the rest of U Beauty's products, it's powered by the brand's proprietary SIREN Capsule Technology, a delivery system that ensures the areas of the skin that need the extra hydration are targeted. For example, if your cheeks are drier than the rest of your face, the capsules will deliver the actives to that area. As a result, the brand says the formula will also help improve skin texture and the look of fine lines and wrinkles.
As for the tint, it comes in 11 shades that include a range of undertones. They're designed to be flexible and "self-adapt" to your skin tone. While the pure mineral pigments won't offer the coverage needed to conceal red, angry blemishes and extreme discoloration, it does even out and brighten your complexion for a luminous, natural look.
My Typical Makeup Routine
Ironically it takes a handful of products in order to achieve my everyday no-makeup makeup look. I lean towards creamy formulas that are powered by the same ingredients I use in my skin care because not only do they boost hydration and brighten, they also deliver the most natural finish. For complexion, I'll wear a lightweight foundation such as Armani Luminous Silk and dab on concealer where needed (typically my under eyes, redness around my nose, and any hormonal zits or lingering dark spots on my chin). My current favorite is Tower 28's Swipe Serum Concealer, which offers impressive color payoff for being medium coverage. Once my base is set, I go in with Westman Atelier's Face Trace Cream Contour Stick on my cheekbones for a subtle contour, tap on Pat McGrath Labs' radiant rosy blush on the apples of my cheeks, and finish with Victoria Beckham Beauty's Reflect Highlighter Stick over top for an extra glow.
On my eyes, I swipe on a few coats of volumizing mascara because I like my lashes to look full and fluffy. Right now, I'm into Westman Atelier's Eye Want You Mascara — it adds the volume I'm after but has a slightly subdued finish which makes it a great option for daytime. I typically don't go hard on eyeshadow, brushing on a mix of the taupe shades from Kosas' Undressed Eyeshadow Palette. And my brows are full(er) and defined, thanks to Rare Beauty's Brow Harmony Precision Pencil and Flexible Lifting Gel.
Finally, a swipe of muted or rosy pink lip oil ties my subtle look together. Lately, I've been keeping Saie's Glossybounce in Dip in my bag.
My Experience & Results
Because The SUPER Tinted Hydrator is technically a moisturizer, I skipped that step in my morning skin care routine and applied it over a mineral sunscreen since it doesn't contain SPF. Since my skin is light with neutral undertones, I tried shade 3, which has golden undertones because shade 2 on the brand's chart read a little too pink for me. And this was the perfect match. I distributed one pump on the palm of my hand, then dabbed it onto my face before massaging it in with my fingertips. I immediately looked more awake, thanks to the formula's radiant finish. This product isn't intended to be full coverage, so I did have to go in with concealer to cover the giant zits that are currently living rent-free on my chin.
However, this tinted moisturizer felt weightless on my skin, and it complemented the rest of my everyday makeup perfectly — all of my products stayed blended and I didn't experience any oxidation from The SUPER mid-day. Because I was able to integrate it so seamlessly into my routine, I foresee it becoming a staple on WFH days when I don't want to apply all of my makeup but want to look fresh-faced or while traveling because it doubles as skin care, too.
Is U Beauty's The SUPER Tinted Hydrator Worth It?
As a fan of the entire U Beauty line, The SUPER Tinted hydrator lives up to the brand's reputation for creating cutting-edge, meticulously-formulated products. It also delivers on its hydration claims and it performs just as well — if not — better than many of the lightweight foundations products in my current rotation.
The only drawback is the price. At $108, it's pricier than other options on the market, which makes me wish it also offered SPF protection. With that, a little did go a long way for covering my face, so I think this bottle will last me awhile. Not to mention it acts as two products in one. Now, that's what I call girl math.