Travel Necessities: 12 Beauty Essentials To Pack For The Holiday Weekend
2014 Adam Katz Sinding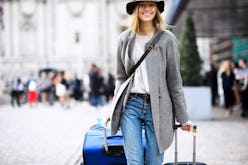 Are you the type of girl who takes 2 gigantic suitcases to go out of town for one weekend? Well, don't let your beauty routine add to the problem. We curated the 12 essential beauty products you need to get you through your weekend beautifully— without taking up too much space in your bag. You know what that means? More room for shoes.
Photo: Adam Katz Sinding
Foundation
Opting for a creamy foundation allows you to apply makeup with your fingers–in case you forgot your brushes.
Eye Shadow
A palette that has a range of neutral and dark shades will give you endless eye shadow options. Natural and bronzey for day, sexy and smoky for night.
Dry Shampoo
Never leave the house without a travel-sized dry shampoo. You never know how much (or little) time you'll have to get ready on your trip.
Mascara
An obvious essential in any beauty lover's makeup bag–but this one conveniently doesn't come in a bulky tube.
Nail Polish
Don't take the risk of traveling with a glass bottle of nail polish. Save yourself the risk of a messy situation with these mini plastic bottles that hold enough lacquer for one full mani and come in every color under the sun.
Cleanser
Make sure to pack an exfoliating cleanser that deep cleans, so you don't end up having to use whatever random soap you find in your childhood bathroom.
Sunscreen
Whether your plans include laying by the pool or a day of ice fishing, always apply sunscreen before you step outdoors.
Moisturizer
Don't have room for your face serum? An ultra-moisturizing face cream promises to keep your face dewy and healthy while you can't do your full skincare regime.
Eyelash Curler
Because of its awkward shape, an eyelash curler can be difficult to pack in your toiletries. This one is just as effective and fits easily into your makeup bag.
Shampoo And Conditioner
Shampoo and conditioner can be two of the most cumbersome items to take with you. This handy duo keeps hair bouncy and lush, without taking up all the room in your suitcase.
Lipstick
If you want to take all your favorite lipstick shades but don't have the space, pack these compact-sized ones so you have plenty of options for fun makeup looks.
Carrying Cases
It's easier to keep all your beauty essentials in order with a cute set of makeup bags. A square case fits bulky compacts with ease and comes with built-in pockets to safely house your brushes. A pouch is perfect for keeping your travel-sized toiletries all in one place.