Tranexamic Acid Is The New Powerhouse Ingredient To Fight Hyperpigmentation
Look out dark spots, uneven tone, and melasma.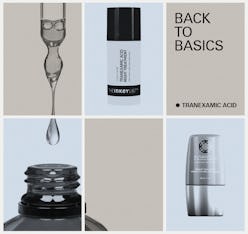 With new products, brands, and categories popping up every day, beauty can be a bit overwhelming. Back to Basics is our rudimentary beauty series that serves as your crash course on the science behind some of the best formulations in the game.
The seemingly never-ending cycle that is hyperpigmentation is a daunting and challenging one. For every dark spot that you're finally able to get rid of, another appears — especially, if you're dealing with more challenging skin conditions such as melasma. But recently, it seems that tranexamic acid for hyperpigmentation may be the answer to these types of skin care woes. And according to the experts, the science and research behind the buzzy ingredient doesn't lie.
But with so many acids out there, what's different about this one — and why is it worth your valuable shelf space? "Tranexamic acid has been used for years by mouth to help enhance blood clotting," Dr. Joshua Zeichner, board certified dermatologist tells TZR. "It was fortuitously discovered that it also improves hyperpigmentation." Dr. Zeichner says that while the mechanism of action is unclear, there are theories that it has antioxidant benefits that can minimize exposure of heat to the skin, with heat being a well-documented cause of hyperpigmentation (and the culprit behind those pesky melasma patches).
Deborah Kilgore, director of skin care knowledge development programs at Paula's Choice, agrees. "If hyperpigmentation is a concern, tranexamic acid is an ingredient you'll want to consider," she says. "This exciting ingredient helps to visibly fade the look of multiple forms of discolorations including post- acne marks and melasma, which can be particularly stubborn." She says that topically, tranexamic acid works by interrupting pathways in skin that left unchecked, can lead to new discolorations or existing ones getting worse. "It also seems to work within skin's surface layers to make skin color less susceptible to UV light exposure — of course, you still need sunscreen — and may also reduce redness."
Tranexamic Acid: What To Pair It With
Kilgore says that tranexamic acid plays nicely with a multitude of ingredients, making it super easy to add to your routine. "In fact, pairing with potent antioxidants and other proven ingredients [is] a great way to maximize results, which is key when targeting multiple forms of hyperpigmentation — including melasma which can be stubborn," she says. "Some of the ingredients that will enhance the benefits of tranexamic acid include: salicylic acid, niacinamide, bakuchiol, azelaic acid, vitamin C, and retinol." Zeichner adds arbutin and licorice acid to that list.
Tranexamic Acid: How To Use It
Tranexamic acid, in theory, can be incorporated into almost anyone's skin care routine. "Unlike other true acids, tranexamic acid does not provide exfoliating or collagen stimulating benefits and should be reserved for those people dealing with hyperpigmentation." When it comes to specific products, however, he says that the use may vary. "My best recommendation is to follow the instructions that come with the product that you are using," he says. "When it comes to skin care, there definitely can be too much of a good thing. If you develop redness or irritation from a tranexamic acid containing product, hold off on using it for a few days until the skin improves."
However, the experts do say that frequent use is generally okay. "If you have multiple discolorations, apply your tranexamic acid product all over your face during the day after cleansing, toning, and using a leave-on AHA or BHA exfoliant," Kilgore says. "Follow with a serum (if used) and/or any other treatment product, and finish with your sunscreen. For spot application during the day, apply to discolored areas and finish with sunscreen. You can follow the same pattern for nighttime, following with other nighttime treatments and then moisturizer."
She stressed that in order to successfully fade hyperpigmentation, using the product consistently is important. "Most people will notice results with consistent use in 8-12 weeks. Research has shown that tranexamic acid is safe when applied to skin every day for several months," she explains. "Topical concentrations between 2-5% typically shows results after two to three months of once- or twice-daily usage." However, one thing to note is that tranexamic acid is a water-soluble ingredient, which means it should be used in conjunction with products that are oil-soluble such as an oil-based moisturizer — especially, if you suffer from dry skin. The addition of the emollience can counter the possibility of the skin drying out due to the potency of acid, resulting in a healthier and more balanced skin barrier.
Tranexamic Acid: Ingestible Benefits
"I personally do prescribe oral tranexamic acid for my patients struggling with issues of hyperpigmentation," Zeichner says. "It takes several weeks of continuous use but I have seen beautiful improvements." However, he warns that because of a potential risk of blood clots, not everyone is a good candidate for this course of treatment. And according to Kilgore, it's also used orally in low doses to manage signs of melasma. Your doctor or dermatologist will be able to determine whether or not it's the right course of action for you and your skin.
But ahead, check out some topical options for tranexamic acid that will help clear up your hyperpigmentation in no time.
We only include products that have been independently selected by The Zoe Report's editorial team. However, we may receive a portion of sales if you purchase a product through a link in this article.