Tory Burch On How She Uses Fragrance To Fuel Creativity
Plus, the scent that smells like home.
TZR; Courtesy of Tory Burch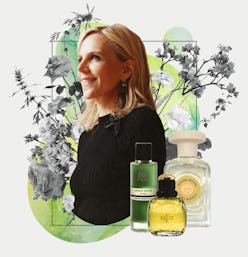 We may receive a portion of sales if you purchase a product through a link in this article.
Every scent evokes an emotion. In Scent Stories, TZR asks tastemakers, celebrities, and industry insiders to share the stories behind the smells of their past and present.
Tory Burch's world is built on cherished memories and wanderlust — her designs and creations reflect the vividness of life experiences. Step into her world and you won't just be greeted with visually stunning garments, but also tablescapes, linens, and fragrances scattered throughout. With perfume, Burch continues to build her dream-like world, twisting and weaving layers of what she believes is essential in the human experience.
Scent is personal for Burch. "It connects us all to different memories and feelings," she says. For each fragrance she launches, she reflects on scent memories she's encountered and where they bring her, from her childhood travels through the Mediterranean Sea, which is salty to the nose, to her garden in the Caribbean, where jasmine wafts through.
Scents often serve as anchors in our lives, reminding us of the forgotten past. It can be empowering to leverage these reminders for expression and creation. Burch takes a page from this book — inspired by her family trips to Morocco, she took Moroccan architecture motifs for the Tory Burch logo. Now, with her most recent fragrance collection, Essence of Dreams, Burch aims for freedom in self-expression. "For our layering oils, I wanted to capture the essence of my three favorite notes — vetiver, rose, and sandalwood — and give women the freedom to experiment," she says. "They can be worn alone or layered with any fragrance in your collection."
Ahead, Tory Burch shares the scents that make up her life, both past and present.
On the first fragrance she ever bought
"I was always stealing my parents' fragrances. My mother's vanity was covered in beautiful bottles — Paris by Yves Saint Laurent, Chanel No. 19, Gran de Folie. My father always wore vetiver, like Jacques Fath Green Water."
On the scent that reminds her of vacation
"Our warm, honey-laced Divine Moon fragrance transports me to my garden in Antigua, where I feel an overwhelming sense of tranquility. The top note, Lady of the Night, is a type of jasmine that blooms only in the evening. Its scent wafts over the entire island until morning."
On the scent of home
"I really love woods, more than anything. When you walk into our home, it's definitely a woody scent — santal and cedar, or pine in the winter."
On the scent of creativity
"My tastes are eclectic, and I design fragrances the same way I design my collections: as tools for self-expression. I generally start with one scent in the morning, then add others throughout the day. These oils are addictive, but not overpowering, so you can mix and layer them endlessly."
Shop Tory Burch's Favorites