Swimwear Goddess Tori Praver Shares Her Beauty Rules
Billy Farrell/BFAnyc.com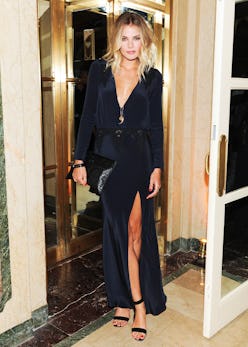 The ultimate hybrid of beauty and brains, Tori Praver is a prime example of the female multi-hyphenates we're always keen to celebrate. The model-cum–swimwear-designer juggles successful careers in both departments, all while playing supermom to her adorable daughter, Ryan (seriously, check out the cuteness on her Instagram account). With a newly announced partnership with Target, Tori Praver Seafoam—hitting stores nationwide in April—Tori manages to navigate a seriously full plate with grace. Channel this beach babe's endless-summer vibe with these 8 beauty rules.
Tori's Get-Gorgeous Tips
Photo: Billy Farrell/BFAnyc.com
Rule #1: Approach Your Beauty Routine From The Inside Out
"Drink enough water to equal half your body weight in ounces each day and eat organic—you are what you eat!"
Boxes of organic produce and pantry items from Summerland. Photos: Courtesy
Rule #2: Don't Neglect Your Manicure
"Never have chipped nails—it's my pet peeve!"
Rule #3: Embrace Your Natural, Sun-Kissed Hair Color
"I only get my hair cut and colored twice a year, once in the summer and once in the winter. I love the of-the-moment trend of natural, sun-bleached hair."
Tori showing off her signature sun-kissed locks. Photo: Courtesy
Rule #4: Wear Sunscreen Every Day
"It's one of the most important beauty rules I live by."
Rule #5: Invest In Good Shampoo And Conditioner
"I love Shu Uemura's products in particular."
Rule #6: Save On Lip Products
"You don't need to spend a fortune to get quality lip gloss. Chapstick brand is my favorite, and a tube only costs $2."
Rule #7: Get Your Beauty Rest
"Since becoming a mother, I've learned to take advantage of any opportunity to sleep I can get—looking tired is not cute!"
Tori relaxing in Bali with her daughter, Ryan. Photo: @toripraver
Rule #8: Sun Responsibly, No Matter Your Age
"I wish I could tell my teenage self not to lay out in the sun and get burned. Trust me, the tan is not worth the wrinkles!"
Tori's daughter, Ryan, shielding herself from the sun by covering up with a big hat. Photo: @toripraver