Things Polished Women Do To Look Perfect All The Time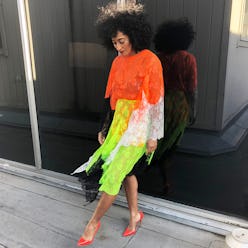 Have you ever noticed those women who always look pulled together (like every day, no matter what)? Of course you have. How do they do it? Well, we're sharing five secrets for looking your best at all times. Teaser: They include an emergency kit and some pre-planning. You'll thank us if you ever unexpectedly run into an ex-boyfriend.
Always Polished, All The Time
Plan Ahead
The best way to always look polished is to plan your outfit and pack your purse the night before. Mornings will feel much easier when you don't have to worry about what to wear or leaving important items behind.
Eat Breakfast
Waking up a few minutes early for a morning meal will change the flow of your entire day. You can use this time to relax before the day gets busy, and you won't feel the urge to binge on snacks before lunch.
Pack An Emergency Kit
Emergencies happen. Make sure to have a small arsenal of get-out-of-jail-free cards in your purse. Items like Band-Aids for blisters, oil-blotting sheets, mints, safety pins and other essentials will help you look pulled together no matter what the day throws at you. Pack them into a small pouch and toss it in your bag when you switch purses.
Reapply Your Makeup
Your day will get busy, but take a couple of minutes to refresh after lunch. Reapply your lipstick, spritz a face mist, run a comb through your hair and check your teeth. Trust us, you'll feel primed to tackle the rest of your day, and you'll look fabulous doing it.
Set (And Stick To) A Pampering Schedule
Whether you get your nails professionally manicured every other week or indulge in an at-home face mask every Sunday morning, a pampering schedule will keep you looking polished.