The Most-Googled Beauty Questions Of 2015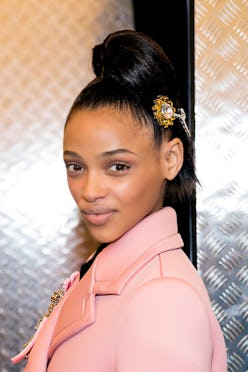 Ever have a burning beauty question and wonder if you're the only one without the answer? We promise you're not alone. Here, we're revealing the top 10 get-gorgeous Google search queries this year—we're even solving them for you. But we're not going to lie, we were surprised by what beauty junkies en masse were dying to learn about.
Did you Google any of these in the past year? Let us know in the comment section below.
Dear Google...
10. How To Make Your Hair Not Staticky
There are a few things you can do to reduce static in hair. Our favorite hack is to run a dryer sheet over the top of our hair—it works just as well as it does on clothes. Your problem may also be the brush you use. Rough bristles can worsen static-prone hair. Instead, opt for a brush with plastic bristles and vents in the base–this cuts drying time in half and leaves behind sleek tresses.
9. How To Put Braids In A Bun
We love a good braided bun, and it's super easy to create. In fact, we've decided to wear this hairstyle to all our last-minute holiday parties this season.
8. How To Get Glowing Skin
Sadly, not all of us were born with naturally glowing skin—that's exactly why we created a step-by-step video on how to fake a perfect complexion with makeup.
7. How To Pop A Deep Zit
Yes, they're annoying. No, don't pop them! It only leads to scarring and bruising. Instead, stock up on these overnight treatments infused with powerful zit-eliminating ingredients like sulfur, rose hip and witch hazel to get rid of them before morning.
6. How To Do A French Braid
Once you get the movements down, French braids are easy to create. Get our tutorial for this anything-but-basic hybrid hairstyle.
5. How To Use Beard Balm
Women aren't the only ones with beauty questions. We're just surprised so many men had to turn to Google to get their beard under control. Forward this onto your boyfriend stat.
4. How To Remove Acrylic Nails At Home
1. Trim acrylics with a nail clipper.
2. Soak 10 cotton balls in acetone and place one on each nail. Wrap each fingertip with a square of foil.
3. Let sit 30 minutes. Unwrap and use a cuticle pusher to scrape off acrylic.
4. Buff nails and apply a coat of clear polish to strengthen.
3. How To Remove Gel Nail Polish
Use the same method as the one we recommended for removing acrylic nails. Or check out this device that uses steam to remove gel without damaging your nails.
2. What Are Lip Fillers?
There are plenty of taboo beauty topics that women are curious about but rarely discuss. The subject of lip fillers is much more frequently talked about now that Kylie Jenner admitted to having them. Here, 18 things to know about lip fillers.
1. How To Do The Kylie Jenner Lip Challenge
Earlier this year, the Kylie Jenner lip challenge became the cause of swollen and bruised mouths everywhere. A suction cup device was created to give less-endowed women a plumper pout but quickly took a turn for the worse.
If Kylie-approved lips are what you're after, we recommend you get your hands on her famous Lip Kit instead.