The Many Beauty Looks Of Kylie Jenner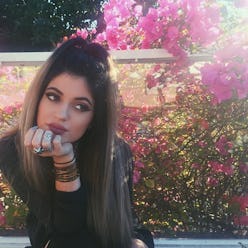 With Kylie Jenner's ever-changing, always evocative beauty looks constantly flooding our social media feeds, it's hard to believe she's only just now (today actually) turning 18. From blue hair to talon-like nails, Kylie has proved that she is a beauty risk-taker. We fully encourage experimentation on the road to finding your signature look and applaud the reality star for her chameleon-like ability to switch things up. Here, the beauty evolution of Kylie Jenner via her uber-popular Instagram account. We look forward to seeing which outrageous beauty trends she makes her own before her 21st birthday?
Two and a half years ago, Kylie posted this youthful and natural-looking Instagram photo.
Photos: @kyliejenner
The beginning of Kylie's signature blue period and a fuller lip.
Brown lipstick and a waterfall ponytail–we told you the '90s were back!
We can get into a purple smoky eye and full flutter.
Kylie celebrated her birthday with a series of futuristic-looking photos on her Instagram–here's 1 of them.