The Braid You Should Wear All Summer Long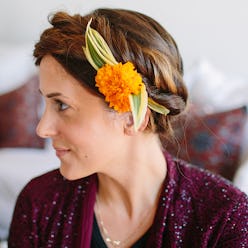 This fishtailed milkmaid braid is pretty, perfectly tousled, and will earn you a compliment or two at any activities you have planned this weekend—guaranteed. When we teamed up with Cleobella to celebrate all things boho and preview their Fall 2014 collection, our "Braid Bar" took center stage. Follow these 8 simple steps to get the same "Mermaid Crown" we created on all our trendy guests.
Step 1
Part hair down the center from front to the nape of the neck and separate into two sections.
Step 2
With a tiny elastic, tie hair into a low ponytail and wrap a small section of hair around to hide the band.
Step 3
Make a fishtail braid on each side and secure the ends with an elastic band.
Step 4
To make your braids appear thicker; pull the braid apart by gently tugging at each section.
Step 5
One at a time, pull the braid over the crown to the opposite side and pin.
Step 6
Hide ends and elastic by tucking under the opposite braid.
Finish the look
Take note from Jen Atkin's first assistant, Justine Marjan and add a pop of summer with fresh flowers at the ear.