The Beauty Junkie's Travel Guide To Seoul, Korea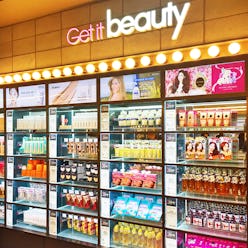 Whether you're into discovering poppy, fun, offbeat products or have completely embraced the wonderful (and oh-so-serious) world of the 10-step K-beauty skincare regimen, you know that the market for overseas beauty buys is heating up. Angela Kim, founder and CEO of Insider Beauty, has made a name for herself by seeking out the best of the best in Korean beauty and bringing it stateside. So, who better to tap for all the dreamiest places to visit in the makeup and skincare mecca that is Seoul? Here, Angela's recommendations for where to shop, relax and prep for a night out while you're in town.
Olive Young: The Sephora Of Korea
"Olive Young in Myeongdong carries a wide range of international beauty brands. Considered the Sephora of Korea, these stores can be spotted throughout Seoul, but the one in Myeongdong is the largest. Check out the Get It Beauty section in the back, where winners from the popular TV show are showcased."
9-20 Myeongdong 1(il)-ga, Jung-gu, Seoul
Unistella: The Salon Behind The Shattered Glass Nail Trend
"An upscale nail salon in the posh district of Cheongdam, Unistella is known for its glass nails and other intricate designs. Nail artist Park Eun Kyung is renowned for setting avant-garde nail trends around the globe. Prices start at $70 and go up to $200 depending on the style."
19-30 Cheongdam-Dong, Gangnam-Gu, Seoul
Lab L: The Place For Custom-Made Skincare
"A hip skincare lab known for its bespoke facials, Lab L offers complimentary skincare evaluations using its analytics device (a futuristic machine you insert your face into, seen on the table above) before customizing a vitamin-infused skincare treatment."
72-8 Cheongdam-Dong, Gangnam-Gu, Seoul
Blow Blush: The One-Stop Beauty Shop
"If you need help getting ready for a night out in Seoul, stop by Blow Blush, a full-service hair, nail, and makeup salon. Choose from a slew of packages like First-Date or Skin-Glowing Makeup, or better yet take a class from one of the professional makeup artists."
72-8 Cheongdam-Dong, Gangnam-Gu, Seoul
Spa The El: The Relaxation Station
"Known for its light therapy as well as its skincare and facial treatments, Spa The El is the perfect place to catch up on much-needed relaxation in the busy city. With a discerning clientele, including a roster of celebrities, this is the place to be for a girls' day out or some solo R&R time. The menu of services includes Tightening Pearl Lifting Treatments and Color Light Therapy Treatments, with prices from $30 up."
Seocheon Building 6F, 570-3, Sinsa-dong, Gangnam-gu, Seoul