Team Zoe's Best Mascaras Of All Time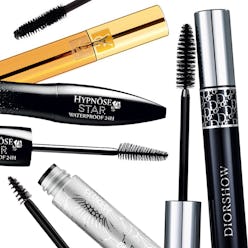 Ever bought a product that fell short and now seems that it's sole purpose is to take up valuable shelf space? We know you have. Luckily, we have combed through a sea of mascaras to bring you some of our favorites that really deliver. Meet the team and shop their most recent obsessions.
Charlotte Tilbury Full Fat Lashes
"Charlotte Tilbury's mascara is my latest obsession! The texture is like velvet and it lengthens and thickens, which I love. Charlotte is one of the best at creating the ultimate dramatic eye so it's fitting that her mascara would be so MAJ!"
Clinique Bottom Lash Mascara
"Clinique Bottom Lash Mascara is life saving. It doesn't move, even if you have it on all day! One coat is all you need. It's the most trustworthy mascara for bottom lashes."
Diorshow Mascara
"Diorshow Mascara has a rent-controlled spot on my beauty shelf. The dense brush, lasting color, waterproof endurance...it just gets the job done."
Topshop Doe Eyed Lashes
"I love the texture and how it doesn't give you raccoon-eyes after a few hours of wear. Somehow it lives up to it's name, making your eyes seem a little more 'doe-eyed'."
Smashbox Photo-Op Eye Brightening Mascara
"I'm obsessed! The blue pigments in the formula make the whites of your eyes pop...it's incredible!"
Tarte Lights, Camera, Flashes Mascara
"Love the gold packaging and love that it NEVER smudges or flakes - it stays on forever!!! I love that is makes my eyes pop. I always feel better when I have it on."
MAC Studio Sculpt Mascara
"MAC's Studio Sculpt mascara leaves your lashes thick and voluminous all day long. The formula is fast drying and doesn't run. It's awesome!"
YSL Volume Effect Faux Cils
"I've gone my entire mascara-wearing life without finding "the one"...until a friend suggested YSL Volume Effect Faux Cils. It gives my lashes the perfect amount of definition, length and volume sans clumping."
LANCÔME Hypnôse Star Waterproof 24 Hour Mascara
"This mascara has a dual-sided brush: one side to build volume and one to separate and fan out lashes - it's the best. Also, I have stick-straight lashes so luckily, the formula keeps them flexible and curled all day and night long!"
Le Volume De Chanel Mascara
"I never leave the house without a swipe or two of this volume-boosting mascara. I have it in both black and navy -- just in case its a blue-lash kind of a day"