Team Zoe's Favorite Sunless Tanning Products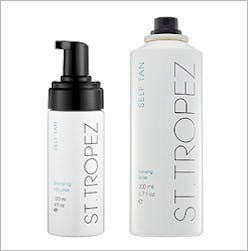 It's no secret that we're big proponents of a faux glow—we strive to test out the latest bronzing products all year long! Given it's prime time to swap "get golden" secrets, we took an office poll to determine the lotions, sprays and mousses that have us coming back, time and time again! Behold, Team Zoe's tried-and-true favorites for summer 2013—get to shopping, the bathroom beach awaits you!
Jergens Natural Glow For Face, $9 & Body, $9
A resounding favorite among our collection team, Jergens' cult favorite line is popular for a reason—it delivers unbeatably natural results to peaches-and-cream complexions.
Clarins Intense Bronze Self Tanning Tint, $35
A popular product among the blondes on Team Zoe, this bronzing fluid is best applied with a cotton ball to control depth & allow for precise placement—leaves an immediate golden glow!
TanTowel Half Body Self Tanning Towelette, $14
Through experience, we prefer the half body towlettes for a more controlled application (use 2 for whole body!) and love the results achieved with the 'medium to dark' formula.
St. Tropez Bronzing Mousse, $32 & Bronzing Spray, $35
St. Tropez's variety of formulas are a recurring obsession at RZHQ—two standouts include the never-streaky spray formula and glide-on mousse (especially for legs)!
L'Oreal Sublime Bronze Lotion, $10
For those who already have a good bit of color to their complexions, L'Oreal's bronzing lotion is the perfect supplement—adds warmth and a touch of radiance.
Beautisol Summer Glow, $39
For fair skinned mavens trying to go drastically darker, this formula delivers believable results in a true bronze hue—no fake orange tones here!