The Slow Burn Of Supergoop
Before Holly Thaggard, sunscreen was considered mundane. With Supergoop, she started a movement.
Written by Brennan Kilbane
TZR/Victoria Warnken; Getty; Supergoop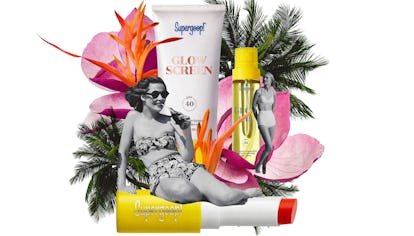 Out of nowhere, there was a sunscreen store. A corner property on Bleecker Street had been mostly dormant since the Kryolan boutique it used to house closed shop. Then one week in June, and almost overnight, its weathered brick facade suddenly beamed glossy and yellow, and its windows were pasted with fresh vinyl lettering. The store opened with a party, and young millennials, a blond majority, milled cheerily around within a gated yard that wrapped around the official Supergoop "Everything Under the Sun" pop-up shop. Nothing was actually for sale at the sunscreen store, but that, of course, was not the point. The only thing under the sun the brand was selling was itself.
On opening evening, amid the din of block party chatter, an events coordinator for the brand explained the lifecycle of a pop-up shop. The Everything Under the Sun store would only last for a few days, and it took about that amount of time to install it — to vinyl-wrap the storefront's bricks in vinyl, to stock an assortment of fake groceries and real sunscreens (that were fake), to put Topo Chico seltzers and citrusy popsicles on ice — plus months to plan and design it. A soft pretzel machine had been outfitted in full Supergoop branding; alongside every pretzel, SPF was written in dijon mustard.
Perhaps in an architectural nod to the dermal nature of Supergoop's product range, the storefront was all front and no store. Samples were given out to anybody who wanted them, and many who did not actively want them but who found themselves allured by the idea of premium sun care, and maybe others who simply wanted a soft pretzel.
At the same time of the sunscreen store's appearance, the brand announced itself in farther-flung places. Along streets in Los Angeles' Design District, Supergoop-branded banners were hung from streetlamps; in London, a dinner was hosted with influencers and Supergoop-branded menus. Supergoop's range of sunscreens and SPF-inflected other things has been available in the United Kingdom and Canada, as well as in Sephora stores throughout Southeast Asia, since 2017; this year it extended its markets in Europe, and by Christmas, it'll land in the Middle East. In late 2021, the "growth" division of the private equity firm Blackstone purchased a majority stake in Supergoop; by mid-2022, it had secured investment from Hugh Jackman, Jenna Lyons, the founders of Spanx, and Bumble. If you have never heard of Supergoop, it's only a matter of time and money and banners and pop-ups.
A New Beginning
The company's current chapter began more than seven years ago, when the company appointed a new cabinet of beauty executives, among them Amanda Baldwin, who took over from Supergoop's founder Holly Thaggard as president. Baldwin's background was a gorgeous blend of beauty and money — she had worked on Wall Street, but also in marketing for Dior Beauty and Clinique. "A president is a huge hire for us, and a huge new step," Thaggard told WWD at the time. In 2015, the company had raised $6.5 million in funding; after the Blackstone acquisition, it was valued at closer to $700 million.
"Many people asked me, 'Did you think it was a big risk, [going to] this tiny business with under 10 people and a few million dollars in sales?'" Baldwin said. "I never felt that way. Because the idea was so big."
The idea is astronomical. In the billion-trillion-dollar beauty ecosystem, it takes a certain amount of convincing a customer that they need to spend money on something that will tint their cheeks for a night, or "nourish" their "skin barrier" with "bioavailable peptides." There is precisely one beauty invention that is actually medically necessary for human people, and it's the one that Supergoop sells.
Yet the company's success has been more of a slow burn, at least compared to other entrants. Fellow beauty startups Glossier and Augustinus Bader both hit billion-dollar valuations in a fraction of Supergoop's lifespan. Which is not to say the products aren't beloved (they are) or that the brand is underexposed (even straight men know that Supergoop is a word that means "quality sunscreen"). The problem was sunscreen. It could have taken a lifetime to convince people that they really, truly, needed to wear sunscreen, and it could have taken another one to convince them it was cool to do so. The genius of Holly Thaggard is that she did it in about a decade.
A Sunscreen Queen & Her Vision
These days, the Sunscreen Queen holds court on Zoom. Holly Thaggard had been given the nickname in a Vanity Fair interview, and she loves it, if it also feels slightly grandiose. But she likes it more than her other nickname, Holly the Harpist, which she carried around for a decade prior to launching Supergoop, working as a traveling harpist for hire. (She still plays — mostly around the holidays.)
Thaggard is, by this point, a doyen beauty founder, having founded Supergoop 18 years ago. Her speech is full of practiced brand milestones; she feels inclined to admit how the company keeps her up sometimes at night, and says things like, "I could not hire somebody to be on this Zoom right now inspiring you more than I could." The idea of educating people about the importance of sunscreen dovetailed gorgeously with her founder origin story. She was a third grade teacher out of college. A close friend had died of skin cancer; her kids, in Texas public schools, were not allowed to wear sunscreen at recess because the schools couldn't afford the product. Thaggard originally launched the brand as a way to provide free sunblock to public schools, but also as a public campaign a la Smokey the Bear — the tagline they landed on was Every. Single. Day.
People by and large are not unaware of the dangers of ultraviolet exposure — there are, indeed, ancient texts from all over the world that describe antiquated methods of sunblock, from rice bran to pine needles. The ignorance is, like so many other ignorances, really more of a Western one. But, to be fair to us, we used to love tanning, and the FDA hasn't approved a new sunscreen filter in decades — even one that's proven to work in France or Japan.
The American sun care market has a reputation for cosmetically inelegant formulas, chalky and white, worn to the beach and almost nowhere else. "In 2004, sunscreen was put out on display for the peak weeks of summer, in June and July, and come August, it was all even shipped back to the manufacturer," Thaggard told me. Supergoop's first publicist didn't want to charge Thaggard a retainer for most of the year, because magazines only ran SPF stories in May and June, but Thaggard paid in full on the condition that they'd pitch Supergoop products year-round. (Does the sun only shine in May and June?) It would be about a decade before a magazine wrote about Supergoop outside of the summer, when Hand Screen won an Allure Best of Beauty Award in October.
"Sun care was always beach care, not skin care," one beauty editor told me. "Supergoop definitely changed that, probably because their product felt cool." Perhaps it was the fact that, from their inception, Supergoop's products have been marketed as premium-grade. Thaggard saw the sun care-skin care connection early on, which is probably why her first retail partner was Sephora, not CVS. "I definitely needed a big partner to launch our brand," she said. She remembered telling Sephora, "'I believe that we're going to deseasonalize a sleepy category, and we're only going to do that if we look as beautiful at Christmas as on the Fourth of July.'"
The SPF Revolution
Then the real challenge began to crystallize: How could they make something that's going to make me look as beautiful on Christmas as on the Fourth of July, and also make it SPF 50? Thaggard and Baldwin both invoke the company's "product-first," philosophy, which guarantees a steady assembly line of new sunscreen-based innovations. Every product in Supergoop's 40ish products includes sun protection, forming what Thaggard terms a "wardrobe of sunscreens." There are now sun-protective eyeshadows and lipsticks that could spawn entire categories and brands of their own. There are others, like targeted serums with retinol or vitamin C with SPF 50, that may be novel, but lack the same common-sense wearability.
And Supergoop's original value proposition — not that their sunscreen would make you look better, but that sunscreen was a daily necessity, and theirs happened to be great — is now something of a standard marketing message for its competitors. (When Glossier launched their own sunscreen, they did so with a tagline that seemed to borrow directly from Supergoop.) Many brands have tried to knock off Supergoop, especially the Glow Screen, a skin-perfecting SPF that flatters its wearer, and makes them want to wear it. None have come close.
Less than two decades after setting out, Thaggard and her company have done more than educate the public about the dangers of sun damage — they have made the act of applying sunscreen seem aspirational. In March, Chriselle Lim, a Supergoop partner, posted a video of her getting dressed and applying the Unseen Sunscreen as her last step. "This is what I call a cool girl uniform," she wrote in the caption, "and cool girls use sunscreen every day." Kate Moss recently told Vogue she only just started wearing SPF. "My daughter tells me off all of the time," she said. At Sephora stores nationwide — as good a bellwether as any for what the cool girls are buying — Thaggard says that nearly every basket that goes to check out includes a Supergoop product.
The reign of the Sunscreen Queen is strong with this cohort, a fact that Thaggard knows well — it's right there in the pitch deck, after all — and yet still, in a founderly way, claims to still be bemused by. "My son had gone to all-boys school since pre-K and moved over to a co-ed high school last year," she begins to tell me, "and on his first day home I said, 'You had girls in your class, right? What did you think?' And he said, 'Mom, they all want Glow Screen.'"