The Summer Beauty Rituals You Should Bring Into Winter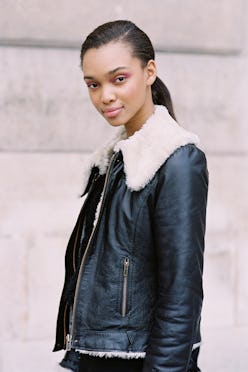 Just because summer is long gone doesn't mean we have to forgo the perfectly tanned skin and bright colors of our warm-weather beauty routine. Find out which rituals we're taking from the sand to the snow this winter and why. Because good beauty is seasonless.
Keep Elements Of Summer In Your Winter Beauty Routine
Photo: Vanessa Jackman
Self-Tanner
Our legs have basically been in hiding for a couple months now which means one thing: pale, pale, pale. Avoid looking like Casper the Ghost in your holiday mini by getting your gams party ready with a coat of self-tanner. Start with your usual hair-removal routine and exfoliate skin before applying tanner with a tanning mitt. Soak up your golden glow for 4 to 8 hours before rinsing off. Finish with a moisturizing body lotion.
Sea-Salt Spray
Lazy days of lying on the sand are behind us for now, but gorgeous beach waves don't have to be. Get texture and sexy volume for a night out on the town without having to work too hard. Towel dry hair and liberally apply a sea-salt spray. Scrunch hair with fingers and let it air dry (or a use a diffuser for added height). Finish with a pomade and a sparkly hair accessory.
Colored Eye Shadow
Infuse some color into your winter routine with a few swipes of colored eye shadow. Keep light shades on the brow bone, mediums on the lid and darker hues in the crease.
Green Eyes: Go for pink undertones and rustic browns.
Brown Eyes: Try green or blue hues to make eyes pop.
Blue Eyes: Complement your baby blues with orange and gold hues.
Hazel Eyes: Reach for plum and wine colors for a sultry look.
Sunscreen
It's beyond important to protect your skin year-round whether or not you live in a sunny locale. Harmful UV rays cause premature aging, sunspots and health concerns, no matter what the temperature is. If you don't like the feeling of a thick sunscreen, start your daily regimen with a light SPF spritz.
Temporary Tattoos
A summer favorite, temporary tattoos are a great way to accessorize in a fun and creative way no matter what the season. These dark designs are perfect for the holidays and make a sexy impact when strategically positioned under sheer panels. Need more holiday glam? Dust glitter over a wet tattoo.
Bronzer
Add warmth to your makeup look this winter by giving yourself a healthy bronze glow. Use a fluffy brush to apply it into the hallows of cheeks, along the hairline, under the chin and along both sides of the nose. If your décolleté is exposed, add a little bronzer to the collarbone and shoulders as well.