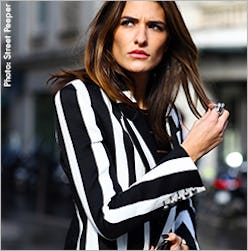 Ah, mid-July weather…hot, humid and downright temperamental in terms of getting our hair to cooperate! For anyone on a quest for frizz-free, under-control locks, look to these tips from one of DreamDry's senior stylists, Stephany Preda. Whether you crave sleek strands, beachy waves or a braided 'do, we've got insider tricks to help your hair combat the elements!
Click through for tips on how to achieve your best summer hair from DreamDry's Stephany Preda!
For straight & sleek locks:
The right hot tool is key! "I would use Hana Professional's Flat Iron. If you're looking for something less expensive, then I would go with a CHI."
For straight & sleek locks:
Don't skip the prep step, as it's the most important part for keeping hair controlled! "Oribe's Supershine Cream moisturizes hair, calms frizz, and makes the hair smooth and shiny."
For straight & sleek locks:
While blowing hair out with a round brush, focus on the hairline and roots—the smoother they appear, the more polished the entire look becomes. Turbo Power's Twin Turbo 3800 dryer gets the job done quick and easy!
For beachy waves:
Even when you're aiming for a textured style, don't do a rough blow out! It's not about making your hair straight or flat, but rather smooth—use a round brush (Stephany loves Ibiza Collection!) as you usually would.
For beachy waves:
Post-blow dry, section hair in 1-1/2 inch sections & curl hair with a styling wand. "The curling iron I would recommend for beach waves is Hot Tools' 1-1/4 Flipperless Curling Iron Wand."
For beachy waves:
Don't forget your products! Prep hair with a frizz-control formula like Moroccanoil, and finish the look by flipping head upside down and treating it to a generous helping of texture-boosting hairspray.
For a braided style:
On days when hair just won't cooperate, throw your locks into a fishtail braid (similar to DreamDry's "The Braid" style)! Use a styling cream that gives you control, but isn't too sticky—apply sparingly and build hold as needed.