A Solution For Stressed Skin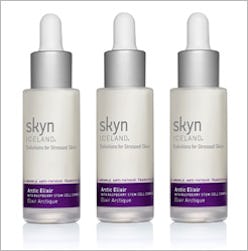 We'll try any skin savior that promises to wipe away the telltale signs (wrinkles and dullness, we're looking at you!) of a hectic schedule. Here to the rescue is the latest formula from Skyn Iceland—a powerful and speedy anti-aging elixir!
The Key Ingredient: Raspberry stem cells. Say what?! This fruity formulation is packed with antioxidants that work to override inflammation and aging triggered by stress.
The Numbers: Studies revealed fine line and wrinkle reduction by up to 25% in 3 weeks with recommended use. The elixir also produces an immediate tightening effect thanks to sodium hyaluronate, which improves elasticity and acts as an immediate wrinkle filler.
Great For Sensitive Skin: Don't let the powerful results and ingredients deter you if your skin is delicate—this formula is paraben and sulfate free, and includes a variety of soothing elements to calm the complexion.
How To Use: Wash skin with your preferred cleanser. Apply Arctic Elixir to face and neck, followed by a rich moisturizer.
Availability: Skyn Iceland Arctic Elixir ($60). For additional information, visit SkynIceland.com.