Why This Victoria's Secret Model's Pepto-Bismol Blackhead Hack Shouldn't Be Attempted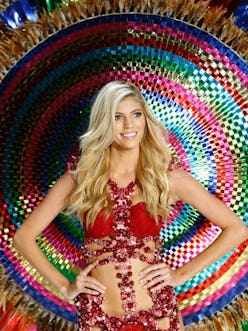 It's no secret supermodels have gorgeous skin. And while we're all for trying the tricks they use to get glow-y, we can't stand behind all of them. And this Victoria's Secret model's Pepto-Bismol blackhead hack, which has been going viral, proves just that.
Victoria's Secret model Devon Windsor recently took to Snapchat to share with fans her favorite at-home hack for busting blackheads. And while we were expecting mud masks and spot-treatments galore, the VS star surprised us with a treatment straight off the shelves of her medicine cabinet: a single bottle of Pepto-Bismol. Windsor credits the creamy pink stuff that helps soothe stomach aches—which she slathered on her nose and T-zone—for helping to tighten pores and get rid of blackheads.
While we applaud Windsor's innovativeness for DIY beauty, we've got to just come right out and say it: Pepto-Bismol isn't a blackhead treatment. Sure, it's made with salicylic acid, which targets breakouts, and aspirin to soothe inflammation, but, call us crazy, we have a hunkering feeling Pepto-Bismol isn't meant to be used on the skin. To prove that point, we asked New York City-based dermatologist Debra Jaliman to weigh in on the pink treatment.
"Yes, salicylic acid works, but there are so many great products on the market that are already formulated to treat acne, so why do you need to use Pepto-Bismol?," says Jaliman. "It's great for a stomach ache, but it's certainly not great for your face."
To find out more (and see Devon Windsor's original snapchat), check out the full article on Allure.