The Forgotten Step In Your Skincare Routine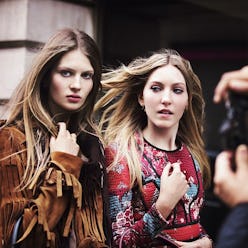 If you're as crazy about your skincare routine as we are, you've probably tried every product that promises smoother, tighter and brighter skin. But there's a specific category of product that seems to have flown under the radar for some time now: essence lotion. Contrary to its name, it's actually not a lotion at all–it's a liquid that soaks right into your skin. Tap it into the skin to boost moisture and hydrate skin on a deeper level.
Get With It
Photo: @burberry
Use this liquid lotion to cleanse, smooth and nourish tired skin while also fighting against free radicals and environmental damage.
This essence water is so powerful, it can be used overnight as a sleeping facial or mixed with your daily moisturizer for extra hydrating power.
Great for all skin types, this liquid lotion hydrates skin and make is look plumped, refreshed and radiant.
Packed with amino acids, this product promotes a healthy skin cell renewal cycle in 2 uses per day.
We love the convenience of this antiaging essence spray bottle. Now you can refresh skin an hydrate on the go–even if you're already wearing makeup.