The Best Makeup Removers According To The Pros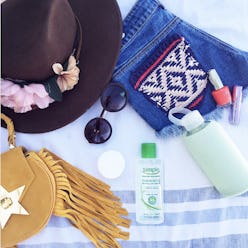 If there's anybody who knows a thing or two about applying and—more importantly—removing makeup, it's the artists that deal with this issue on a daily basis. Since it's not easy to find a product that breaks down caked-on makeup and waterproof formulas, we tapped the pros for their favorites for getting the job done. Here, the best makeup removers on the market according to the experts that know best.
Save Face
Photo: @nikkideroest
Kristofer Buckle
"I love MAC's makeup removing wipes. When taking off makeup, it needs to happen both fast and gentle, and these make it all disappear in the best way possible."
Amy Nadine
"Coconut oil is all I use to remove makeup. It's a natural antiseptic and is antibacterial, so not only will it not cause you to break out, but it will calm any inflammation. Apply a teaspoon all over your face and eyes, then wipe off with a muslin or wash cloth. It will get off even the most stubborn eye makeup!"
Nikki Deroest
"My favorite makeup remover is Bioderma, hands down. It's gentle, unscented and melts makeup in just one easy swipe. It's also great for fine-tuning and perfecting the tedious cat eye. Apply the micellar water to one side of a cotton ball and swipe it along the lower part of the winged liner to sharpen the edge and make it look perfect."
Gita Bass
"After a long day, remove your makeup and avoid bacteria buildup by applying a micellar water onto a Q-tips® Beauty Round and wipe away product from the skin and eyes. The product includes triple-purified water that helps minimize the potential for skin irritation and the cotton rounds are gentle enough to use on even the most delicate areas of your face."
Sarah Uslan
"I love using Tatcha's camellia cleansing oil to melt away makeup at the end of the day. It's the best for removing even the most waterproof makeup!"
Christina Guerra
"I'm currently loving the impenetrable liquid lipcolor trend–the color looks vibrant for hours and doesn't budge. What I'm not loving is removing the color at the end of the day. Dermalogica's Precleanse Wipes literally melt away even the most enduring of lip products and they leave a soft, moisturized finish. Plus, they're portable! Toss them in your purse for a skincare session on the go."