The Best Eye Creams Under $50 (That Actually Work)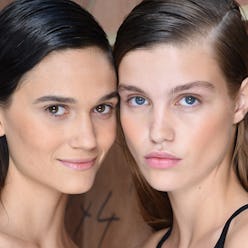 You might think you have your antiaging strategy all figured out (sunscreen, not smoking), but unless you're a spunky high school student, your skincare routine should consist of more than just a simple cleanser and moisturizer. If you're hesitant to add expensive eye creams to your regime, these 6 products prove you don't have to shell out big bucks to make your eyes look younger, smoother and better than ever. Pick the one that works for your needs and get a head start on fighting crow's feet STAT. Here's to looking years younger than the rest of the crowd at your high school reunion.
It's All In The Eyes
A brightening eye cream helps to fade dark circles while protecting the skin from free radical damage.
This avocado-infused eye cream hydrates the under-eye area to fight fine lines and wrinkles.
Finally your concealer will stay in place all day, thanks to this hydrating eye cream that melts into skin, creating the perfect canvas for makeup.
Instantly reduce puffiness with this cooling metal applicator while fighting fine lines and wrinkles over time.
Maracuja fruit and vitamin C in this multitasking eye-treatment hydrate, firm, and brighten the under-eye area.
Boost collagen in the under-eye area to fight fine lines and wrinkles while reducing puffiness.