This Superfood Might Be The Secret To Clear Skin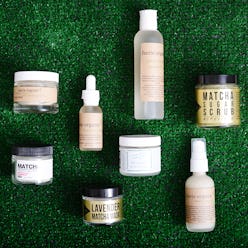 My foray into the world of matcha began one afternoon during lunch when a friend of mine ordered a matcha latte. I was embarrassed to admit that I didn't really know what it was, as I had only previously seen forms of the green drink on Hannah Bronfman's aspirational Instagram page. I gave it a try—and I haven't looked back since.
Even though matcha has gained popularity as the trendy drink of choice in the last few years, it has actually been around since the 12th century. Originally produced in China, the powdered tea component was frequently used during Buddhist ceremonies. Now, the highest quality of matcha comes from Japan and is available in two types: usucha ("thin tea") and koicha ("thick tea").
Recently, matcha has expanded to cafes across the U.S. with places solely dedicated to serving the tea like Cha Cha Matcha and MatchaBar in New York. (You can even consult Matchaeologist for all your brewing needs!) Believe it or not, you can find matcha even at your local Starbucks nowadays—it's disguised on the menu as a "green tea latte." In addition to finding matcha in foods and pastries, there are also beauty products made out of the green ingredient.
According to Dr. Stacy Chimento, a dermatologist based in Miami: "The high concentration of antioxidants and the healing properties and immunity boost obtained from matcha green tea powder makes it a great and effective ingredient for use in skin products." Antioxidants are known for repairing sun damage, acne, and scarring, as well as reducing inflammation and redness, and improving blood circulation and cellular metabolism.
"Matcha green tea products tend to have one of the highest concentration of EGCG [epigallocatechin-gallate] or polyphenols, which again have the potential to protect the skin cells from free radicals, and can protect the body from cancer and viruses," Dr. Chimento adds. While Dr. Chimento believes that matcha has many benefits for the skin, she still recommends applying sunscreen. She also emphasizes that there are various grades of matcha in products which are determined by oxidation, so she suggests opting for "tried and true products recommended by experts in skin care."
Dr. Purvisha Patel, a dermatologist at Advanced Dermatology & Skin Cancer Associates, also echoes some of these concerns, stating that studies have shown the benefits of matcha with the consumption of the tea, not cosmetic products. While she assures that there is no internal risk, she also notes that it could potentially cause negative reactions such as rashes or irritation for anyone with plant allergies or sensitive skin. (To know for sure, Dr. Chimento suggests doing a spot test on your skin.) Though, according to Dr. Patel, the caffeine in matcha most certainly works as an anti-puffiness agent and aids with creating smoother skin.
Of all the items on the market, Dr. Patel recommended matcha masks and scrubs, because the powder is closest to its truest form in these products.
Check out some of the best matcha products that we found in the full article here.