How St. Ives Apricot Face Scrub Is Destroying Your Skin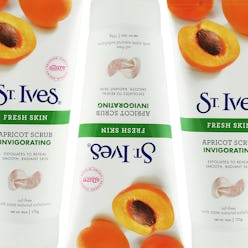 Whether it's currently living in your shower or you swore by it back in high school, everyone has had a love affair with St. Ives Apricot Scrub at some point or another. It's easy to see why—it makes your skin feel baby soft, and what can beat the satisfaction of scrubbing your face clean? And at $4 a pop, one would wonder why even use anything else. Sounds too good to be true, right? That's because it is!
Aesthetician Vanessa Hernandez explains, "The main ingredient in this scrub is walnut shell. The abrasive texture creates microscopic tears in the top layer of the skin, which then increases future redness and inflammation. It also contains sulfates which are drying and irritating, and several ingredients that are comedogenic, which means it clogs pores." These tears are virtually invisible—which is why you think your skin is in good shape—but all it takes is the visual of the surface of your skin being covered in microscopic cuts to get you to throw out your beloved apricot scrub.
For those of you who refuse to quit cold turkey, the good news is you can still get some use out of the rest of that tube you own. Rather than subject your face to even more damage, use the scrub on rougher areas of the body like knees and elbows.
What do you think of St. Ives Apricot Scrub? Will you continue to use it? Let us know in the comments below.
Safer Alternatives