Sleeping Masks Are The One Product Your Nighttime Skincare Routine Is Missing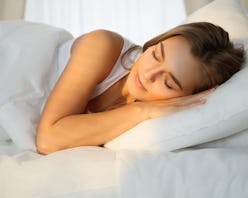 Between back-to-back meetings during the week and a jam-packed weekend calendar, the last thing you want to do is pile an eight-step nighttime skincare routine onto your to-do list, right? We get it: Once you're finally home, it's easy to grab a makeup wipe and collapse into bed. But listen up, skincare slackers: Sleep masks are about to be your new hero product. The best part? They can be slathered on before bed and don't require a rinse-off 15 minutes later. Here experts explain how to use this new it product to get a well-rested glow come morning. How's that for convenient?
So what exactly is a sleep mask? Typically, it's a cream- or gel-like formula that's a bit thicker than a wintertime moisturizer, and despite its viscosity, it usually feels light on your skin. "While you're snoozing, [the right] sleep mask will create a seal over your complexion to lock in moisture and allow ingredients like retinol and peptides to absorb into the skin more efficiently," says Dr. Mostafa M. Omar, the president of Phyto-C as well as the Professor of Pharmacognosy at the University of Rhode Island, School of Pharmacy. This leaves your skin softer, smoother and perfectly hydrated before you even open your eyes.
Here's how it works: After applying your toner and serum at night as usual, slather on your sleep mask. (You can go spa-style and use a brush to coax it on, or if you prefer the quicker route, your fingers will do.) Before your alarm goes off in the morning, your sleep mask will do some major work. The skin regenerates and repairs itself while you sleep and "unlike traditional clay or sheet masks, sleeping masks feel like a gel or moisturizer and are specifically designed to release ingredients over time while you sleep, so when you wake up your complexion is more radiant," says Dr. Craig Kraffert, Board Certified Dermatologist and president of skincare brand Amarte.
"The better-quality formulas are ones that are more cream-based because water-based masks can evaporate," says celebrity esthetician Renee Rouleau, who counts Sofia Vergara and Demi Lovato as clients. Ahead, we culled 10 powerhouse sleep masks to try so you can truly maximize your beauty sleep.
This formula contains hyaluronic acid and essential fatty acids to form a lightweight, protective layer over the skin.
Purify your skin with this salicylic acid and tea tree oil overnight mask that works to eradicate blemishes.
This jelly-like mask easily glides on and thoroughly works to hydrate and smooth the skin for a velvety soft finish.
Revitalize overworked, stressed skin with this nutrient-rich watermelon-scented mask.
This soothing pink peony mask deliverers a surge of moisture.
Lightweight, this green jelly mask has redness-relieving peptides to soothe active inflammation while an antioxidant blend of tea extracts and honey protect the skin against environmental stressors.